It's time again for the Animanicast! Here's episode sixty three-a featuring another discussion with Animaniacs Creator and Senior Producer Tom Ruegger!
Join your hosts Joey, Nathan and Kelly in the "Animanicast!" A podcast dedicated to the classic 90's cartoon show Animaniacs! Today's discussion with Tom Ruegger features some of the original lyrics to the Animaniacs theme, auditions for Wakko before Jess Harnell, and a discussion of the rumored reboot of Animaniacs.
---
Animanicast #63a: Discussion with Animaniacs Creator and Senior Producer Tom Ruegger- Part Four
Each and every week, your hosts revisit an episode of the series in the order in which they first premiered. They discuss their favorite jokes, gags, and discuss all the cultural references they can find! Today's episode features another discussion with the creator of Animaniacs, Tom Ruegger.
Animaniacs' Theme
First, Tom shares some of the original lyrics for the theme to "Animaniacs." Joey "sings" the song and Tom provides some background to how the theme song was created as well as how other themes such as "Tiny Toon Adventures" and "Freakazoid" were written.
Voice Actors of Animaniacs and Wakko Auditions
Tom discusses how the voice actors of Animaniacs were selected, including Maurice LaMarche, Tress MacNielle, Rob Paulsen and Jess Harnell. Before Jess came in to audition for the part of Wakko, several other prominent voice actors auditioned for the part of Wakko. Some of these include Maurice LaMarche, Arte Johnson, John Kassir, Frank Welker, and even Rob Paulsen! Tom shares an audition tape that has not been heard in over 25 years which has these auditions for Wakko.
Tom also shares some tips for aspiring voice actors.
Tom Ruegger on the Possible Reboot of Animaniacs
Fans have been asking Tom about the recent rumors of Animaniacs getting rebooted. Tom shares his thoughts.
"Many of us who worked on Animaniacs in the past have tried to find out more and we have not found out a lot. It looks like there are some discussions, but whether they are… coming to fruition, nobody seems to know."
He continued, "My hope is that Warner Bros. and Amblin basically do the right thing and get as many of the original creators, artists, writers and musicians involved."
"I wouldn't want to make the show without the brilliant writers and artists that came up with it. I think the fans will love a reboot if it really captures the essence and fun and anarchy and zaniness of the original. I truly believe that can be achieved with getting the band back together but I don't think you can just find someone off the street and say, 'Make more Animaniacs' and expect it to work out."
"I would love to make new 'Animaniacs,' but it would have to be under conditions that are guaranteed not to fail."
Having a sufficient budget and inviting the original cast members back would also be incredibly important according to Tom.
Listener Q and A
Some additional topics and questions from our audience and hosts are discussed.
Tom shares more details of when Steven Spielberg called him from the 405 to critique an episode of "Tiny Toon Adventures."
Why were there 65 episodes of Animaniacs in season one?
Why was there a Halloween episode in May of 1994?
Today's Sponsor: Teepublic.com!
Head over to our merchandise store to support the artists at TeePublic and our show as well! Simply check out the designs at teepublic.animanicast.com and then pick out a shirt, mug, cell phone case, or any other merchandise available!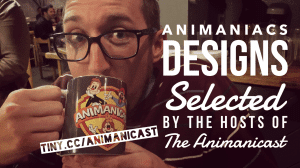 Different Ways to Support Our Show
If you'd like to support out show there's lots of ways to do it! First of all, you could go onto Apple Podcasts and leave us a five-star positive review.
Also, don't forget to tell a friend about the show! Your retweets and post shares help others find us.
You could also purchase some hand prepared decals from Joey HERE. (Say that you're a listener of the Animanicast and get an extra decal!)
Interested in getting some Animanicast MERCHANDISE? It's in stock now at TeePublic! Get yours HERE.
If you like this episode, check out the previous one!
---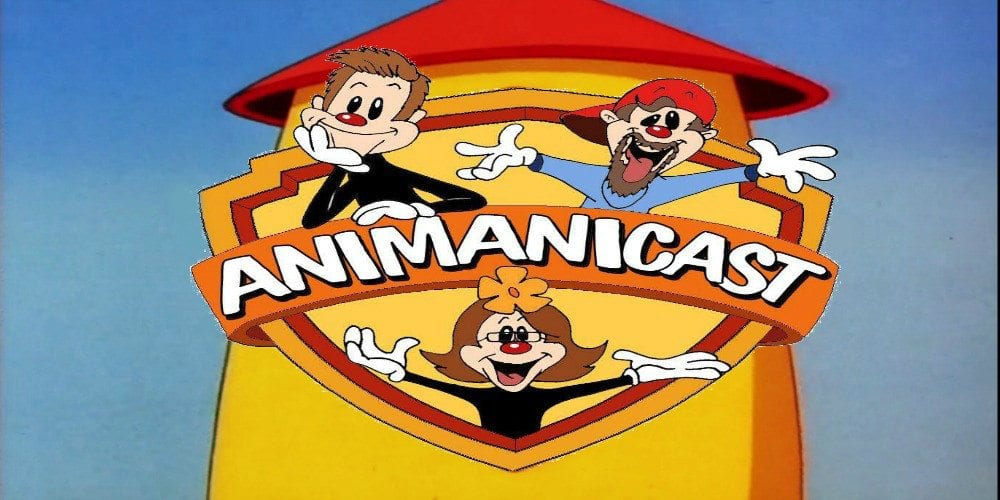 click banner for all episodes and homepage
The Animanicast is a podcast dedicated to the classic animated television series Animaniacs. Join your hosts Joey, Nathan and Kelly as they revisit each episode in the order in which they were released. They'll discuss their favorite moments, jokes, characters as well as their memories of first watching the episode. Pop cultural references are also discussed in detail. (You might just learn some cool facts!) In the end, each episode receives a "Water Tower Rating" from the hosts. Cue up an episode of Animaniacs and then listen to the Animanicast to keep the fun going!
Cover art by @jedishua Intro Music performed by Kontra5t
Animanicast #63a with Animaniacs Creator Tom Ruegger Feat. Rob Paulsen's Audition as Wakko and an Animaniacs Reboot Discussion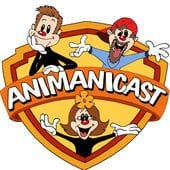 The Animanicast is a podcast dedicated to the classic animated television series Animaniacs. Join your hosts Joey, Nathan and Kelly as they revisit each episode in the order in which they were released. They'll discuss their favorite moments, jokes, characters as well as their memories of first watching the episode. Pop cultural references are also discussed in detail. (You might just learn some cool facts!) In the end, each episode receives a "Water Tower Rating" from the hosts. Cue up an episode of Animaniacs on DVD or Hulu and then listen to the Animanicast to keep the fun going! Cover art by @jedishua Intro Music performed by Kontra5t