It's time again for the Animanicast! Here's episode fifty eight discussing "Meet John Brain," " Smell Ya Later" and more!
Join your hosts Joey, Nathan and Kelly in the "Animanicast!" A podcast dedicated to the classic 90's cartoon show Animaniacs! Today's discussion of episode 58 of Animaniacs features the Brain running for president in "Meet John Brain" and Slappy getting hazelnuts while avoiding a smelly dog in "Smell Ya Later."
---
---
---
Animaniacs S01E58
Each and every week, your hosts revisit an episode of the series in the order in which they first premiered. They discuss their favorite jokes, gags, and discuss all the cultural references they can find! Each episode is then given a "Water Tower Rating" by the hosts. How many water towers will this episode get?
Meet John Brain
After discussing a couple of short segments (and Ethel Merman), the hosts discuss Brain's attempt to take over the world by running for president. Brain is quite successful, until he meets his supporters at the convention and his actual size is revealed!
While this cartoon does make some satirical comments on the 1992 election with Ross Perot, the messages of this cartoon are still relevant today. The hosts discuss how politics can often split families apart and how the recent 2016 election resembled this cartoon in some ways.
The 1996 campaign of putting a Brain in the White House is also discussed. The winner of the recent decal contest is also revealed.
Smell Ya Later
Slappy Squirrel faces one of her old cartoon enemies, a dog named Stinkbomb. Despite his attempts to stop the squirrels, he ends up becoming more stinky than when the cartoon began. The hosts discuss a little about Jonathan Winters who voiced the character of Stinkbomb.
Boo Knows
Before closing things up, a quick commercial parody is discussed, "Boo Knows," which pokes fun at the "Bo Knows" commercials from the 1990's. Paul Dini wrote this short cartoon, who, among many other things, helped create the character of Harley Quinn!
Contest!
Send a positive 5-Star review on iTunes and you will be entered for an Animaniacs decal package! All decals have been prepared by Joey and are a great way to show off your love of the series. Winners will be chosen at random whenever we reach review numbers that are multiples of 5!
Today's Sponsor: Teepublic.com!
Head over to our merchandise store to support the artists at TeePublic and our show as well! Simply check out the designs at teepublic.animanicast.com and then pick out a shirt, mug, cell phone case, or any other merchandise available!
 
Different ways to contact us!
First, you could email us at [email protected]
Then, you could like our facebook page at facebook.com/animanicast
Finally, you can follow us on twitter at twitter.com/animanicast
Different Ways to Support Our Show
If you'd like to support out show there's lots of ways to do it! First of all, you could go onto iTunes and leave us a five-star positive review.
Don't forget to tell a friend about the show! Your retweets and post shares help others find us.
You could also purchase some hand prepared decals from Joey HERE. (Say that you're a listener of the Animanicast and get an extra decal!)
Interested in getting some Animanicast MERCHANDISE? It's in stock now at TeePublic! Get yours HERE.
---

click banner for all episodes and homepage
The Animanicast is a podcast dedicated to the classic animated television series Animaniacs. Join your hosts Joey, Nathan and Kelly as they revisit each episode in the order in which they were released. They'll discuss their favorite moments, jokes, characters as well as their memories of first watching the episode. Pop cultural references are also discussed in detail. (You might just learn some cool facts!) In the end, each episode receives a "Water Tower Rating" from the hosts. Cue up an episode of Animaniacs on Netflix or on DVD and then listen to the Animanicast to keep the fun going!
Cover art by @jedishua Intro Music performed by Kontra5t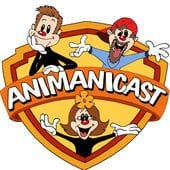 The Animanicast is a podcast dedicated to the classic animated television series Animaniacs. Join your hosts Joey, Nathan and Kelly as they revisit each episode in the order in which they were released. They'll discuss their favorite moments, jokes, characters as well as their memories of first watching the episode. Pop cultural references are also discussed in detail. (You might just learn some cool facts!) In the end, each episode receives a "Water Tower Rating" from the hosts. Cue up an episode of Animaniacs on DVD or Hulu and then listen to the Animanicast to keep the fun going! Cover art by @jedishua Intro Music performed by Kontra5t