It's time again for the Animanicast! Here's episode fifty four discussing "Brain Meets Brawn" and "Meet Minerva"
Join your hosts Joey, Nathan and Kelly in the "Animanicast!" A podcast dedicated to the classic 90's cartoon show Animaniacs! Today's discussion of episode 54 of Animaniacs features Pinky and the Brain taking advantage of a formula by Dr. Jekyl and Minerva Mink's second (and last) major segment.
---
---
---
Animaniacs S01E54
Each and every week, your hosts revisit an episode of the series in the order in which they first premiered. They discuss their favorite jokes, gags, and discuss all the cultural references they can find! Each episode is then given a "Water Tower Rating" by the hosts. How many water towers will this episode get?
Randy Beaman Segments
Before getting into the main segments, the two Randy Beaman segments are discussed. The first deals with the explosive results of mixing Pop Rocks and soda. The other is a spooky story involving Randy Beaman and a ghost! The hosts discuss their favorite segment and what makes it funny.
The original "Pop Rocks" animation can be found HERE.
Brain Meets Brawn
The Brain decides to use Dr. Jekyl's formula to turn into a monstrous creature and break Big Ben's gears on the stroke of four (tea time). Brain becomes the monster whenever Pinky makes him mad and becomes smaller whenever Pinky says, "I'm sorry." The plan goes awry, although Pinky is very happy with the music Big Ben makes.
Meet Minerva
A hunting dog named Newt tries to catch Minerva Mink but ends up falling in love with her. The hosts have a discussion of what they liked about this segment but also on what they don't like about Minerva. Is the cartoon inappropriate for kids? Is it sexist? Feel free to email us your thoughts!
Contest!
Send us in a positive 5-Star review on iTunes and you will be entered for an Animaniacs decal package! All decals have been prepared by Joey and are a great way to show off your love of the series. Winners will be chosen at random whenever we reach review numbers that are multiples of 5!
Today's Sponsor: Teepublic.com!
Head over to our merchandise store to support the artists at TeePublic and our show as well! Simply check out the designs at teepublic.animanicast.com and then pick out a shirt, mug, cell phone case, or any other merchandise available!
 
Different ways to contact us!
First, you could email us at [email protected]
Then, you could like our facebook page at facebook.com/animanicast
Finally, you can follow us on twitter at twitter.com/animanicast
Different Ways to Support Our Show
If you'd like to support out show there's lots of ways to do it! First of all, you could go onto iTunes and leave us a five-star positive review.
Don't forget to tell a friend about the show! Your retweets and post shares help others find us.
You could also purchase some hand prepared decals from Joey HERE. (Say that you're a listener of the Animanicast and get an extra decal!)
Interested in getting some Animanicast MERCHANDISE? It's in stock now at TeePublic! Get yours HERE.
---

click banner for all episodes and homepage
The Animanicast is a podcast dedicated to the classic animated television series Animaniacs. Join your hosts Joey, Nathan and Kelly as they revisit each episode in the order in which they were released. They'll discuss their favorite moments, jokes, characters as well as their memories of first watching the episode. Pop cultural references are also discussed in detail. (You might just learn some cool facts!) In the end, each episode receives a "Water Tower Rating" from the hosts. Cue up an episode of Animaniacs on Netflix or on DVD and then listen to the Animanicast to keep the fun going!
Cover art by @jedishua Intro Music performed by Kontra5t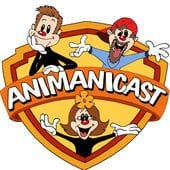 The Animanicast is a podcast dedicated to the classic animated television series Animaniacs. Join your hosts Joey, Nathan and Kelly as they revisit each episode in the order in which they were released. They'll discuss their favorite moments, jokes, characters as well as their memories of first watching the episode. Pop cultural references are also discussed in detail. (You might just learn some cool facts!) In the end, each episode receives a "Water Tower Rating" from the hosts. Cue up an episode of Animaniacs on DVD or Hulu and then listen to the Animanicast to keep the fun going! Cover art by @jedishua Intro Music performed by Kontra5t