It's time again for the Animanicast! Here's episode fifty two discussing "Ups and Downs," "Brave Little Trailer" and "Yes, Always"
Join your hosts Joey, Nathan and Kelly in the "Animanicast!" A podcast dedicated to the classic 90's cartoon show Animaniacs! Today's discussion of episode 52 of Animaniacs features the Wakko and Scratchansniff getting stuck in an elevator, a little trailer defends others from a tornado, and Brain gets frustrated in a recording session.
---
---
---
Animaniacs S01E52
Each and every week, your hosts revisit an episode of the series in the order in which they first premiered. They discuss their favorite jokes, gags, and discuss all the cultural references they can find! Each episode is then given a "Water Tower Rating" by the hosts. How many water towers will this episode get?
Ups and Downs
In the first segment, Wakko and Scratchansniff are on their way to visit Mr. Plotz and get stuck in an elevator. The two try to pass the time singing, telling jokes, and are victims of a horrible rescue operation from Warner Bros. maintenance. Of course, Wakko loves every minute.
This is one of Kelly's favorite segments and she brings up many hilarious moments. Nathan and Joey also discuss some of their favorite moments in this incredibly funny cartoon.
The Brave Little Trailer
Next, a small, outdated  trailer is an outcast in a trailer park. Just when he's about to give up on life he notices a tornado in the distance and takes it upon himself to save the other trailers. Everything works out perfectly and the brave little trailer becomes an old little trailer.
The hosts then discuss some of their favorite moments in this cute segment.
Yes, Always
Finally, in perhaps the most self-referential Animaniacs segment discussed so far, Pinky and the Brain are in a recording studio at Warner Bros. to record additional dialogue for a cartoon. First, Brain throws out the producer, director, and writer (voiced by Tom Ruegger, Andrea Romano and Peter Hastings) and then he proceeds to rant about the horrible lines he's been given.
This entire segment is actually a reference to outtakes from an Orson Welles recording session. Maurice LaMarche reportedly first performed this rant in his audition for Animaniacs. Stay tuned after the credits of today's episode for some of the original audio of Orson Welles ranting and raving!
Today's Sponsor: Teepublic.com!
Head over to our merchandise store to support the artists at TeePublic and our show as well! Simply check out the designs at teepublic.animanicast.com and then pick out a shirt, mug, cell phone case, or any other merchandise available!
 
Different ways to contact us!
First, you could email us at [email protected]
Then, you could like our facebook page at facebook.com/animanicast
Finally, you can follow us on twitter at twitter.com/animanicast
Different Ways to Support Our Show
If you'd like to support out show there's lots of ways to do it! First of all, you could go onto iTunes and leave us a five-star positive review. Don't forget to tell a friend about the show!
You could also purchase some hand prepared decals from Joey HERE. (Say that you're a listener of the Animanicast and get an extra decal!)
Interested in getting some Animanicast MERCHANDISE? It's in stock now at TeePublic! Get yours HERE.
---

click banner for all episodes and homepage
The Animanicast is a podcast dedicated to the classic animated television series Animaniacs. Join your hosts Joey, Nathan and Kelly as they revisit each episode in the order in which they were released. They'll discuss their favorite moments, jokes, characters as well as their memories of first watching the episode. Pop cultural references are also discussed in detail. (You might just learn some cool facts!) In the end, each episode receives a "Water Tower Rating" from the hosts. Cue up an episode of Animaniacs on Netflix or on DVD and then listen to the Animanicast to keep the fun going!
Cover art by @jedishua Intro Music performed by Kontra5t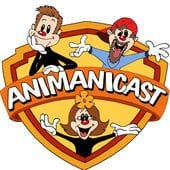 The Animanicast is a podcast dedicated to the classic animated television series Animaniacs. Join your hosts Joey, Nathan and Kelly as they revisit each episode in the order in which they were released. They'll discuss their favorite moments, jokes, characters as well as their memories of first watching the episode. Pop cultural references are also discussed in detail. (You might just learn some cool facts!) In the end, each episode receives a "Water Tower Rating" from the hosts. Cue up an episode of Animaniacs on DVD or Hulu and then listen to the Animanicast to keep the fun going! Cover art by @jedishua Intro Music performed by Kontra5t