It's time again for the Animanicast! Here's episode fifty discussing "Twas the Day Before Christmas," "Jingle Boo" and much more!
Join your hosts Joey, Nathan and Kelly in the "Animanicast!" A podcast dedicated to the classic 90's cartoon show Animaniacs! Today's discussion of episode 50 of Animaniacs features the Warners getting a visit from Santa Ralph, Chicken Boo dresses up as Santa Claus, the Warners visit a toy shop with an evil robot, and lots more!
---
---
---
Animaniacs S01E50
Each and every week, your hosts revisit an episode of the series in the order in which they first premiered. They discuss their favorite jokes, gags, and discuss all the cultural references they can find! Each episode is then given a "Water Tower Rating" by the hosts. How many water towers will this episode get?
Twas the Day Before Christmas
The Warners are preparing for a visit from Santa. In order to make sure they get the visit however, Mr. Plotz hires Ralph the Guard to dress up as Santa and deliver presents. Ralph does a pretty horrible job, but luckily the real Santa comes in at the end to give presents to the trio.
This parody of "Twas the Night Before Christmas" has some great gags and was recently performed by Rob Paulsen, Maurice LaMarche, Sherri Stoner, and Nathan Ruegger. To hear it, head over to Rob Paulsen's "Talkin' Toons" podcast!
Jingle Boo
Chicken Boo dresses up as Santa and while most kids don't see past the facade, little Colin certainly does! He pulls off his beard and Chicken Boo is kicked out. Luckily for Boo however, Santa is there to give him a happy ending for once.
The hosts discuss similarities this cartoon has with "A Christmas Story" as well as the odd concept that Chicken Boo can get away with things in Arkansas.
The Great Wakkorotti: The Holiday Concert
Wakko is back to sing/burp "Jingle Bells." The animation is the same, the song is different, but the hosts are rather indifferent to this segment.
Toy Shop Terror
The Warners visit a toy shop after hours and are chased by an evil toy robot! The entire cartoon features the score "Powerhouse" which is very catchy and brings a lot of energy to this cartoon which features very little dialogue.
Today's Sponsor: Teepublic.com!
Head over to our merchandise store to support the artists at TeePublic and our show as well! Simply check out the designs at teepublic.animanicast.com and pick out a shirt, mug, cell phone case, or any other merchandise available!
 
Different ways to contact us!
First, you could email us at [email protected]
Then, you could like our facebook page at facebook.com/animanicast
Finally, you can follow us on twitter at twitter.com/animanicast
Different Ways to Support Our Show
If you'd like to support out show there's lots of ways to do it! First of all, you could go onto iTunes and leave us a five-star positive review. Don't forget to tell a friend about the show!
You could also purchase some hand prepared decals from Joey HERE. (Say that you're a listener of the Animanicast and get an extra decal!)
Interested in getting some Animanicast MERCHANDISE? It's in stock now at TeePublic! Get yours HERE.
---

click banner for all episodes and homepage
The Animanicast is a podcast dedicated to the classic animated television series Animaniacs. Join your hosts Joey, Nathan and Kelly as they revisit each episode in the order in which they were released. They'll discuss their favorite moments, jokes, characters as well as their memories of first watching the episode. Pop cultural references are also discussed in detail. (You might just learn some cool facts!) In the end, each episode receives a "Water Tower Rating" from the hosts. Cue up an episode of Animaniacs on Netflix or on DVD and then listen to the Animanicast to keep the fun going!
Cover art by @jedishua Intro Music performed by Kontra5t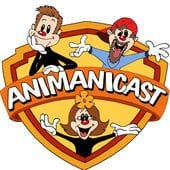 The Animanicast is a podcast dedicated to the classic animated television series Animaniacs. Join your hosts Joey, Nathan and Kelly as they revisit each episode in the order in which they were released. They'll discuss their favorite moments, jokes, characters as well as their memories of first watching the episode. Pop cultural references are also discussed in detail. (You might just learn some cool facts!) In the end, each episode receives a "Water Tower Rating" from the hosts. Cue up an episode of Animaniacs on DVD or Hulu and then listen to the Animanicast to keep the fun going! Cover art by @jedishua Intro Music performed by Kontra5t