It's time again for the Animanicast! This special episode features an interview with Colin Wells who voiced "Colin" a.k.a. the "Randy Beaman Kid" on Animaniacs.
Join your hosts Joey, Nathan and Kelly in the "Animanicast!" A podcast dedicated to the classic 90's cartoon show Animaniacs! Today episode 50a features an interview with Colin Wells who provided the voice of Colin in Animaniacs.
---
---
---
Colin Wells joins us to discuss working on Animaniacs, as well as some of his experiences working on Cheers, Saturday Night Live and growing up in Hollywood. He also talks about some of his experiences as a Specialist in the United States Army fighting in Afghanistan and some of his most recent projects.
An Early Start in Hollywood
Being the son of the Groundlings director and writer Deanna Oliver has its perks when it comes to getting work in Hollywood. Colin made small appearances on Cheers (see Season 8, episode 24 for his appearance) and was also featured in an SNL short film entitled  "Dave's Party." In this short, the legendary Phil Hartman provided the voice of Colin's character, Dave.
Working on Animaniacs
Colin first began working on Animaniacs shortly after his mother was hired as a writer. He remembers the entire staff and the voice actors being especially kind and supportive. Working on the show could have been a chore, but instead it was incredibly fun. Some of his favorite Randy Beaman segments and the process of recording are discussed.
To Kelly's delight, Colin also reflects upon meeting none other than Steven Spielberg. Colin reflects on bringing a girl to the premiere of "Jurassic Park" and sweating on her hair when he placed his arm around her.
Character Origins and Talks of an Animaniacs Reboot
Colin then discussed how pigeons outside his house became the inspiration for the Goodfeathers. He also discussed the possibility of an Animaniacs reboot. According to Colin, everyone that was involved in the writing, producing, and acting is ready and willing to do it again if asked!
Joining the Army
Finally, Colin discusses why he later joined the army some of his experiences when he was deployed in Afghanistan. Even though the experience was incredibly stressful, Colin was able to relieve the stress with laughter. Some of his experiences and reflections can be found in his short film "Laughter Under Fire."

Colin hopes that this is just the beginning of a series of "Under Fire" features. In the future he hopes to show how other veterans have coped with their traumas using poetry, art, music, etc.
Colin Wells continues to work with veterans and can be followed and contacted via instagram @veterans_walk_and_talk. The stated mission: "Veterans who walk together, talk together. We are a group of Veterans who hike and chat about anything and everything. It is ok to talk."
Today's Sponsor: Teepublic.com!
Head over to our merchandise store to support the artists at TeePublic and our show as well! Simply check out the designs at teepublic.animanicast.com and pick out a shirt, mug, cell phone case, or any other merchandise available!
 
Different ways to contact us!
First, you could email us at [email protected]
Then, you could like our facebook page at facebook.com/animanicast
Finally, you can follow us on twitter at twitter.com/animanicast
Different Ways to Support Our Show
If you'd like to support out show there's lots of ways to do it! First of all, you could go onto iTunes and leave us a five-star positive review. Don't forget to tell a friend about the show!
You could also purchase some hand prepared decals from Joey HERE. (Say that you're a listener of the Animanicast and get an extra decal!)
Interested in getting some Animanicast MERCHANDISE? It's in stock now at TeePublic! Get yours HERE.
---

click banner for all episodes and homepage
The Animanicast is a podcast dedicated to the classic animated television series Animaniacs. Join your hosts Joey, Nathan and Kelly as they revisit each episode in the order in which they were released. They'll discuss their favorite moments, jokes, characters as well as their memories of first watching the episode. Pop cultural references are also discussed in detail. (You might just learn some cool facts!) In the end, each episode receives a "Water Tower Rating" from the hosts. Cue up an episode of Animaniacs on Netflix or on DVD and then listen to the Animanicast to keep the fun going!
Cover art by @jedishua Intro Music performed by Kontra5t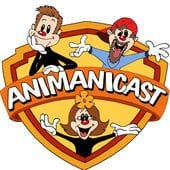 The Animanicast is a podcast dedicated to the classic animated television series Animaniacs. Join your hosts Joey, Nathan and Kelly as they revisit each episode in the order in which they were released. They'll discuss their favorite moments, jokes, characters as well as their memories of first watching the episode. Pop cultural references are also discussed in detail. (You might just learn some cool facts!) In the end, each episode receives a "Water Tower Rating" from the hosts. Cue up an episode of Animaniacs on DVD or Hulu and then listen to the Animanicast to keep the fun going! Cover art by @jedishua Intro Music performed by Kontra5t