It's time again for the Animanicast! Here's episode forty nine discussing "A Christmas Plotz," "Little Drummer Warners," and more!
Join your hosts Joey, Nathan and Kelly in the "Animanicast!" A podcast dedicated to the classic 90's cartoon show Animaniacs! Today's discussion of episode 49 of Animaniacs features the Animaniacs version of "A Christmas Carol" with "A Christmas Plotz" and the Warners visit Bethlehem in "Little Drummer Warners."
---
---
---
Animaniacs S01E49
Each and every week, your hosts revisit an episode of the series in the order in which they first premiered. They discuss their favorite jokes, gags, and discuss all the cultural references they can find! Each episode is then given a "Water Tower Rating" by the hosts. How many water towers will this episode get?
A Christmas Plotz
Mr. Plotz fires Ralph the Security Guard at Christmas! What a Scrooge! Before you know it, Plotz is visited by three spirits who just happen to look just like Yakko, Wakko, and Dot. The three spirits show Plotz the error of his ways. Plotz rehires Ralph and buys him the largest fruitcake in Burbank!
The hosts discuss this take on "A Christmas Carol" and discuss a few of their favorite moments and some of the cultural references to celebrities. Kelly and Joey also discuss their favorite movie version, "A Muppet Christmas Carol" and talk about Michael Caine's performance as Scrooge. To see the added and then deleted song, "When Love is Gone" click HERE.
Little Drummer Warners
Yakko, Wakko, and Dot are in Bethlehem following a star that leads them all the way to baby Jesus. The wise men show up as well but before it resembles a typical Nativity story, the Warners sing a swingin' version of "The Little Drummer Boy." Baby Jesus likes it!
Joey, Nathan and Kelly all discuss what they thought of this atypical cartoon of "Animaniacs." There's not really any zany gags due to the selected subject. Kelly does enjoy the music quite a bit though. The hosts then discuss whether or not a cartoon like this could be made today or whether or not equal representation of other religious holidays would need to be covered as well.
Today's Sponsor: Teepublic.com!
Head over to our merchandise store to support the artists at TeePublic and our show as well! Simply check out the designs at teepublic.animanicast.com and pick out a shirt, mug, cell phone case, or any other merchandise available!
 
Different ways to contact us!
First, you could email us at [email protected]
Then, you could like our facebook page at facebook.com/animanicast
Finally, you can follow us on twitter at twitter.com/animanicast
Different Ways to Support Our Show
If you'd like to support out show there's lots of ways to do it! First of all, you could go onto iTunes and leave us a five-star positive review. Don't forget to tell a friend about the show!
You could also purchase some hand prepared decals from Joey HERE. (Say that you're a listener of the Animanicast and get an extra decal!)
Interested in getting some Animanicast MERCHANDISE? It's in stock now at TeePublic! Get yours HERE.
---

click banner for all episodes and homepage
The Animanicast is a podcast dedicated to the classic animated television series Animaniacs. Join your hosts Joey, Nathan and Kelly as they revisit each episode in the order in which they were released. They'll discuss their favorite moments, jokes, characters as well as their memories of first watching the episode. Pop cultural references are also discussed in detail. (You might just learn some cool facts!) In the end, each episode receives a "Water Tower Rating" from the hosts. Cue up an episode of Animaniacs on Netflix or on DVD and then listen to the Animanicast to keep the fun going!
Cover art by @jedishua Intro Music performed by Kontra5t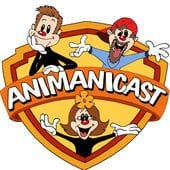 The Animanicast is a podcast dedicated to the classic animated television series Animaniacs. Join your hosts Joey, Nathan and Kelly as they revisit each episode in the order in which they were released. They'll discuss their favorite moments, jokes, characters as well as their memories of first watching the episode. Pop cultural references are also discussed in detail. (You might just learn some cool facts!) In the end, each episode receives a "Water Tower Rating" from the hosts. Cue up an episode of Animaniacs on DVD or Hulu and then listen to the Animanicast to keep the fun going! Cover art by @jedishua Intro Music performed by Kontra5t