It's time again for the Animanicast! Here's episode forty eight discussing  "Mobster Mash," "Lake Titicaca," "Ice Breakers" and more!
Join your hosts Joey, Nathan and Kelly in the "Animanicast!" A podcast dedicated to the classic 90's cartoon show Animaniacs! Today's discussion of episode 48 of Animaniacs features the Warners taking on the mafia in "Mobster Mash," they also teach us about Lake Titicaca, and Rita and Runt meet Ross Perot in "Ice Breakers."
---
---
---
Animaniacs S01E48
Each and every week, your hosts revisit an episode of the series in the order in which they first premiered. They discuss their favorite jokes, gags, and discuss all the cultural references they can find! Each episode is then given a "Water Tower Rating" by the hosts. How many water towers will this episode get?
Mobster Mash
The Warners sit down to enjoy a bowl of spaghetti at an Italian restaurant but what they don't realize is that the booth is reserved for Don Pepperoni, the Godfather. The siblings get kicked out, so the three decide to show the Godfather why it's important to share!
The hosts discuss this very funny cartoon featuring the Warners and discuss some of their favorite gags and references to "The Godfather."
Lake Titicaca
The Warners sing about Lake Titicaca in a short but incredibly catchy song. Why do they like to sing about it? Well, it's named Titicaca!
Ice Breakers
Rita and Runt accidentally end up in Alaska instead of Florida and come across Ross Perot. Perot needs a volunteer since he's running for president and needs to deliver some campaign promises in his dog sled. Runt pulls the sled and Rita gets no credit for saving the two from the dangers of the Alaskan wilderness. In the end, Rita leaves the two and decides to become a Democrat. Runt leaves after disagreeing with Perot's policies.
The hosts discuss their favorite moments of this cartoon and talk about Ross Perot. Which host actually voted for Perot? Tune in to find out!
Today's Sponsor: Teepublic.com!
Head over to our merchandise store to support the artists at TeePublic and our show as well! Simply check out the designs at teepublic.animanicast.com and pick out a shirt, mug, cell phone case, or any other merchandise available!
 
Different ways to contact us!
First, you could email us at [email protected]
Then, you could like our facebook page at facebook.com/animanicast
Finally, you can follow us on twitter at twitter.com/animanicast
Different Ways to Support Our Show
If you'd like to support out show there's lots of ways to do it! First of all, you could go onto iTunes and leave us a five-star positive review. Don't forget to tell a friend about the show!
You could also purchase some hand prepared decals from Joey HERE. (Say that you're a listener of the Animanicast and get an extra decal!)
Interested in getting some Animanicast MERCHANDISE? It's in stock now at TeePublic! Get yours HERE.
---

click banner for all episodes and homepage
The Animanicast is a podcast dedicated to the classic animated television series Animaniacs. Join your hosts Joey, Nathan and Kelly as they revisit each episode in the order in which they were released. They'll discuss their favorite moments, jokes, characters as well as their memories of first watching the episode. Pop cultural references are also discussed in detail. (You might just learn some cool facts!) In the end, each episode receives a "Water Tower Rating" from the hosts. Cue up an episode of Animaniacs on Netflix or on DVD and then listen to the Animanicast to keep the fun going!
Cover art by @jedishua Intro Music performed by Kontra5t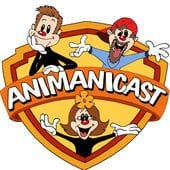 The Animanicast is a podcast dedicated to the classic animated television series Animaniacs. Join your hosts Joey, Nathan and Kelly as they revisit each episode in the order in which they were released. They'll discuss their favorite moments, jokes, characters as well as their memories of first watching the episode. Pop cultural references are also discussed in detail. (You might just learn some cool facts!) In the end, each episode receives a "Water Tower Rating" from the hosts. Cue up an episode of Animaniacs on DVD or Hulu and then listen to the Animanicast to keep the fun going! Cover art by @jedishua Intro Music performed by Kontra5t