It's time again for the Animanicast! Here's episode forty seven discussing "Video Revue," "When Mice Ruled the Earth," and more!
Join your hosts Joey, Nathan and Kelly in the "Animanicast!" A podcast dedicated to the classic 90's cartoon show Animaniacs! Today's discussion of episode 47 of Animaniacs features the Warners touring a video store and getting attacked by a T-Rex in "Video Revue" as well as Pinky and the Brain create a time "When Mice Ruled the Earth!"
---
---
---
Animaniacs S01E47
Each and every week, your hosts revisit an episode of the series in the order in which they first premiered. They discuss their favorite jokes, gags, and discuss all the cultural references they can find! Each episode is then given a "Water Tower Rating" by the hosts. How many water towers will this episode get?
Video Revue
In what might be the Animaniacs cartoon with the most pop cultural references, the Warners take a stroll through a video store late at night. Each cover has living characters on the cover or puns which assist the trio along the way when they run into a T-Rex from "Jurassic Park."
Instead of discussing each and every movie, the hosts simply discuss a few select movies that caught their eye. Kelly brings up Spielberg titles and Nathan brings up Star Wars. Some of their favorite  movies such as "Soap Dish" are also discussed. The hosts also reflect upon the experience of visiting a video store like Blockbuster and how that experience is hard to get these days.
When Mice Ruled the World
Pinky and the Brain steal a time machine created by H.G. Wells to go back in time to critical moments when mice evolved in the hopes of teaching them skills to surpass those of humans. This time they're successful, but end up having to undo everything when the world is inhabited by mice that all look and act like Pinky!
The Goodbye Song
The Warners sing goodbye song based upon Carol Burnett's song. Some differences between this song and the version found on the Animaniacs soundtrack, "Variety Pack" are played.
Today's Sponsor: Teepublic.com!
Head over to our merchandise store to support the artists at TeePublic and our show as well! Simply check out the designs at teepublic.animanicast.com and pick out a shirt, mug, cell phone case, or any other merchandise available!
 
Different ways to contact us!
First, you could email us at [email protected]
Then, you could like our facebook page at facebook.com/animanicast
Finally, you can follow us on twitter at twitter.com/animanicast
Different Ways to Support Our Show
If you'd like to support out show there's lots of ways to do it! First of all, you could go onto iTunes and leave us a five-star positive review. Don't forget to tell a friend about the show!
You could also purchase some hand prepared decals from Joey HERE. (Say that you're a listener of the Animanicast and get an extra decal!)
Interested in getting some Animanicast MERCHANDISE? It's in stock now at TeePublic! Get yours HERE.
---

click banner for all episodes and homepage
The Animanicast is a podcast dedicated to the classic animated television series Animaniacs. Join your hosts Joey, Nathan and Kelly as they revisit each episode in the order in which they were released. They'll discuss their favorite moments, jokes, characters as well as their memories of first watching the episode. Pop cultural references are also discussed in detail. (You might just learn some cool facts!) In the end, each episode receives a "Water Tower Rating" from the hosts. Cue up an episode of Animaniacs on Netflix or on DVD and then listen to the Animanicast to keep the fun going!
Cover art by @jedishua Intro Music performed by Kontra5t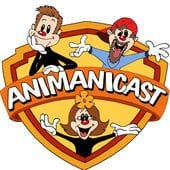 The Animanicast is a podcast dedicated to the classic animated television series Animaniacs. Join your hosts Joey, Nathan and Kelly as they revisit each episode in the order in which they were released. They'll discuss their favorite moments, jokes, characters as well as their memories of first watching the episode. Pop cultural references are also discussed in detail. (You might just learn some cool facts!) In the end, each episode receives a "Water Tower Rating" from the hosts. Cue up an episode of Animaniacs on DVD or Hulu and then listen to the Animanicast to keep the fun going! Cover art by @jedishua Intro Music performed by Kontra5t