It's time again for the Animanicast! Here's episode forty five discussing "Mary Tyler Dot," "Windsor Hassle," "…And Justice For Slappy" and more!
Join your hosts Joey, Nathan and Kelly in the "Animanicast!" A podcast dedicated to the classic 90's cartoon show Animaniacs! Today's discussion of episode 45 of Animaniacs features a parody of "Mary Tyler Moore," the Warners meet the Queen in "Windsor Hassle," and Slappy goes to court in "…And Justice For Slappy!"
---
---
---
Animaniacs S01E45
Each and every week, your hosts revisit an episode of the series in the order in which they first premiered. They discuss their favorite jokes, gags, and discuss all the cultural references they can find! Each episode is then given a "Water Tower Rating" by the hosts. How many water towers will this episode get?
Mary Tyler Dot
Dot is featured in a parody of the theme from the "Mary Tyler Moore Show." Randomness and silliness run amok in this quick song.
Your hosts discuss discuss Mary Tyler Moore and the themes are also played so that you can hear the similarity between them.
Windsor Hassle
The next segment features Windsor Castle which must be remodeled after a fire. The Warners quickly come in to "help" the Queen out. In the end Yakko comes up with the idea to raise money by making the castle a cafeteria!
Kelly and Joey then share their memories of the Royal Family and the drama between different members. The stand out character of the Queen Mother was voiced by Mark Slaughter so the hosts briefly discuss the rock band "Slaughter" and read an excerpt of an interview with Mark Slaughter discussing how he got this job. The hosts discuss their favorite gags and references as well.
…And Justice For Slappy
Finally, Slappy goes to court after she is accused of assaulting Walter Wolf. In the end however she has a "dynamite case" and the jury is able to see her point of view… right before they're blasted through the ceiling.
Kathryn Page Rundown
Nathan uses his enormous talents to act out the last 15 Kathryn Page gag credits found in the credits of Animaniacs!
Listener Feedback
Steven writes in to share some more information on the Animaniacs comic book and gives us an awesome spreadsheet! Sweet!
Today's Sponsor: Teepublic.com!
Head over to our merchandise store to support the artists at TeePublic and our show as well! Simply check out the designs at teepublic.animanicast.com and pick out a shirt, mug, cell phone case, or any other merchandise available!
 
Different ways to contact us!
First, you could email us at [email protected]
Then, you could like our facebook page at facebook.com/animanicast
Finally, you can follow us on twitter at twitter.com/animanicast
Different Ways to Support Our Show
If you'd like to support out show there's lots of ways to do it! First of all, you could go onto iTunes and leave us a five-star positive review. Don't forget to tell a friend about the show!
You could also purchase some hand prepared decals from Joey HERE. (Say that you're a listener of the Animanicast and get an extra decal!)
Interested in getting some Animanicast MERCHANDISE? It's in stock now at TeePublic! Get yours HERE.
---

click banner for all episodes and homepage
The Animanicast is a podcast dedicated to the classic animated television series Animaniacs. Join your hosts Joey, Nathan and Kelly as they revisit each episode in the order in which they were released. They'll discuss their favorite moments, jokes, characters as well as their memories of first watching the episode. Pop cultural references are also discussed in detail. (You might just learn some cool facts!) In the end, each episode receives a "Water Tower Rating" from the hosts. Cue up an episode of Animaniacs on Netflix or on DVD and then listen to the Animanicast to keep the fun going!
Cover art by @jedishua Intro Music performed by Kontra5t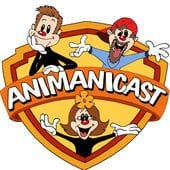 The Animanicast is a podcast dedicated to the classic animated television series Animaniacs. Join your hosts Joey, Nathan and Kelly as they revisit each episode in the order in which they were released. They'll discuss their favorite moments, jokes, characters as well as their memories of first watching the episode. Pop cultural references are also discussed in detail. (You might just learn some cool facts!) In the end, each episode receives a "Water Tower Rating" from the hosts. Cue up an episode of Animaniacs on DVD or Hulu and then listen to the Animanicast to keep the fun going! Cover art by @jedishua Intro Music performed by Kontra5t