It's time again for the Animanicast! Here's episode forty two with "Animator's Alley," "Can't Buy a Thrill," "Hollywoodchuck"" and more!
Join Joey, Nathan and Kelly for the forty-second episode of the "Animanicast!" A podcast dedicated to the classic 90s cartoon show Animaniacs! Today's episode features a discussion of episode 42, where the Warners interview an elderly animator in "Animator's Alley," the Hip Hippos "Can't Buy a Thrill" and a rodent goes "Hollywoodchuck."
---
---
---
Animaniacs S01E42 Animator's Alley/Can't Buy a Thrill/Hollywoodchuck
Each and every week, your hosts revisit an episode of the series in the order in which they first premiered. They discuss their favorite jokes, gags, and discuss all the cultural references they can find! Each episode is then given a "Water Tower Rating" by the hosts. How many water towers will this episode get?
Animator's Alley
The Warners interview Cappy, an old animator from the Warner Bros. Studio. They end up finding a very creative way to get away from his non-stop rambling. They sure weren't dummies!
Can't Buy a Thrill
The Hip Hippos are bored so they try in vain to seek adventure using a travel guide for the rich. In the end they hurt Gina Embryo repeatadly and then finally realize that everything is perfectly fine with their lives.
Although the travel guide provided one small Spielberg reference, the hosts discuss how this cartoon would have been better with more Spielberg connections. Especially "Jaws."
Hollywoodchuck
A woodchuck named Baynarts changes his name and tries to make it big in Hollywood. All he ends up making is a huge list of people he doesn't like.
Twitter Poll
The twitter poll results are shared and then this week's question is given. Go to our twitter page or simply search on twitter for #animanicastpoll to find this week's poll and make your voice heard!
Today's Sponsor: Teepublic.com!
Kelly, Nathan and Joey share selected shirt designs that they love over at TeePublic. Head over to our merchandise store to support the artists at TeePublic and our show as well! Simply check out the designs at www.teepublic.com/stores/animanicast and pick out a shirt, mug, cell phone case, or any other merchandise available!
 Listener Feedback!
William shares his thoughts with us on "Broadcast Nuisance." Were the Warners too hard on Dan Anchorman? Then Eric tweets to us to let us know about a connection "Fair Game" and "The Ducksters."
Different ways to contact us!
First, you could email us at [email protected]
Then, you could like our facebook page at facebook.com/animanicast
Finally, you can follow us on twitter at twitter.com/animanicast
Different Ways to Support Our Show
If you'd like to support out show there's lots of ways to do it! First of all, you could go onto iTunes and leave us a five-star positive review. Don't forget to tell a friend about the show!
You could also purchase some hand prepared decals from Joey HERE. (Say that you're a listener of the Animanicast and get an extra decal!)
Are you interested in getting some Animanicast MERCHANDISE? It's in stock now at TeePublic! Get yours HERE.
---

click banner for all episodes and homepage
The Animanicast is a podcast dedicated to the classic animated television series Animaniacs. Join your hosts Joey, Nathan and Kelly as they revisit each episode in the order in which they were released. They'll discuss their favorite moments, jokes, characters as well as their memories of first watching the episode. Pop cultural references are also discussed in detail. (You might just learn some cool facts!) In the end, each episode receives a "Water Tower Rating" from the hosts. Cue up an episode of Animaniacs on Netflix or on DVD and then listen to the Animanicast to keep the fun going!
Cover art by @jedishua Intro Music performed by Kontra5t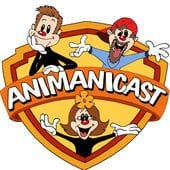 The Animanicast is a podcast dedicated to the classic animated television series Animaniacs. Join your hosts Joey, Nathan and Kelly as they revisit each episode in the order in which they were released. They'll discuss their favorite moments, jokes, characters as well as their memories of first watching the episode. Pop cultural references are also discussed in detail. (You might just learn some cool facts!) In the end, each episode receives a "Water Tower Rating" from the hosts. Cue up an episode of Animaniacs on DVD or Hulu and then listen to the Animanicast to keep the fun going! Cover art by @jedishua Intro Music performed by Kontra5t