It's time again for the Animanicast! Here's episode forty with "Fair Game" and "Puppet Rulers"
Join Joey, Nathan and Kelly for the fortieth episode of the "Animanicast!" A podcast dedicated to the classic 90s cartoon show Animaniacs! Today's episode features a discussion of episode 40, featuring the Warners driving a game show host insane and Pinky and the Brain become children's television stars in order to take over the world.
---
---
---
Animaniacs S01E40 Fair Game and Puppet Rulers
Each and every week, your hosts revisit an episode of the series in the order in which they first premiered. They discuss their favorite jokes, gags, and discuss all the cultural references they can find! Each episode is then given a "Water Tower Rating" by the hosts. How many water towers will this episode get? This fortieth episode features the Warners on a game show and Pinky and the Brain on a children's show!
Casblanca Opening
Today's episode opens with a parody of "Casblanca." Kelly shares how she has bad luck with the movie. Spew!
Fair Game
Yakko, Wakko and Dot appear on "Quiz Me Quick!" and could win a six month trip to the Rock of Gibraltar! They love to say, "Isaac Newton!"… unless it's actually the answer to the question. This drives the host insane and eventually the host is taken away to the Rock of Gibraltar instead!
The hosts discuss some of their favorite moments. This cartoon is fast paced and has lots of great lines!
Puppet Rulers
Pinky and the Brain return with a new plan to take over the world. They will become new characters on a children's puppet show and become popular with the kids watching. They will then cryogenically freeze themselves and return in the future and use their popularity to become world leaders. Unfortunately the fans are upset that they were abandoned by the two and demand that the mice pay their therapy bills.
This show references the classic children's show "Beany and Cecil" from the 50's and 60's. Samples of both the puppet show and cartoon show are played and Joey shares his experiences with the show and merchandise since his father was a fan of the show when he was a kid. The hatred Pinky and the Brain witnessed is also compared to fandom in general and specifically to how some Star Wars fans treat George Lucas.
Twitter Poll
Last week's twitter poll results are shared and this week's question is shared. Go to our twitter page or simply search on twitter for #animanicastpoll to find this week's poll and make your voice heard!
Future Audio Production! Help Wanted!
Joey would love to put together an audio production of the Animaniacs children's books "Hounded" and "Meltdown at the Wax Museum." If you think you can do a good impression of Yakko, Wakko, or Dot send us an email!
Different ways to contact us!
First, you could email us at [email protected]
Then, you could like our facebook page at facebook.com/animanicast
Finally, you can follow us on twitter at twitter.com/animanicast
Different Ways to Support Our Show
If you'd like to support out show there's lots of ways to do it! First of all, you could go onto iTunes and leave us a five-star positive review. Don't forget to tell a friend about the show!
You could also purchase some hand prepared decals from Joey HERE
Are you interested in getting some Animanicast MERCHANDISE? It's in stock now at TeePublic! Get yours HERE.
---

click banner for all episodes and homepage
The Animanicast is a podcast dedicated to the classic animated television series Animaniacs. Join your hosts Joey, Nathan and Kelly as they revisit each episode in the order in which they were released. They'll discuss their favorite moments, jokes, characters as well as their memories of first watching the episode. Pop cultural references are also discussed in detail. (You might just learn some cool facts!) In the end, each episode receives a "Water Tower Rating" from the hosts. Cue up an episode of Animaniacs on Netflix or on DVD and then listen to the Animanicast to keep the fun going!
Cover art by @jedishua Intro Music performed by Kontra5t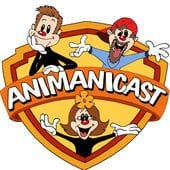 The Animanicast is a podcast dedicated to the classic animated television series Animaniacs. Join your hosts Joey, Nathan and Kelly as they revisit each episode in the order in which they were released. They'll discuss their favorite moments, jokes, characters as well as their memories of first watching the episode. Pop cultural references are also discussed in detail. (You might just learn some cool facts!) In the end, each episode receives a "Water Tower Rating" from the hosts. Cue up an episode of Animaniacs on DVD or Hulu and then listen to the Animanicast to keep the fun going! Cover art by @jedishua Intro Music performed by Kontra5t