It's time again for the Animanicast! Here's episode thirty-nine with "Smitten with Kittens," "Alas, Poor Skullhead," and "White Gloves"
Join Joey, Nathan and Kelly for the thirty-ninth episode of the "Animanicast!" A podcast dedicated to the classic 90s cartoon show Animaniacs! Today's episode features a discussion of episode 39, featuring Rita and Runt who are "Smitten with Kittens," the Warners translate Hamlet in "Alas, Poor Skullhead," and Wakko loses his "White Gloves" and they go on an adventure.
---
---
---
Animaniacs S01E39 Smitten with Kittens/Alas, Poor Skullhead/White Gloves
Each and every week, your hosts revisit an episode of the series in the order in which they first premiered. They discuss their favorite jokes, gags, and discuss all the cultural references they can find! Each episode is then given a "Water Tower Rating" by the hosts. How many water towers will this episode get? This thirty-ninth episode features Rita and Runt taking care of cute kittens, Yakko recites a scene from Hamlet, and Wakko's gloves go on an adventure.
Smitten With Kittens
Rita and Runt come across some kittens in a restaurant alleyway. Rita must decide whether she will take care of these kittens, or keep her independence as a "career cat."
The hosts discuss references to mothers from television, Rita's existential crisis, and Cher's butt in this cute Rita and Runt cartoon.
Alas, Poor Skullhead
Yakko recites one of Hamlet's monologues while Dot translates for us.
Jordan from "Jordan Asks What's News With You" comes to discuss Hamlet and whether or not Dot does a good job of translating Shakespeare.
White Gloves
Wakko's gloves run away and go on an adventure. They become famous, get arrested, and eventually find their way back home to Wakko.
The hosts discuss a couple of amusing moments and connections to cartoons from the past where inanimate objects come to life.
Twitter Poll
Last week's twitter poll results are shared and this week's question is shared. Go to our twitter page or simply search on twitter for #animanicastpoll to find this week's poll and make your voice heard!
Future Audio Production! Help Wanted!
Joey would love to put together an audio production of the Animaniacs children's books "Hounded" and "Meltdown at the Wax Museum." If you think you can do a good impression of Yakko, Wakko, or Dot send us an email!
Different ways to contact us!
First, you could email us at [email protected]
Then, you could like our facebook page at facebook.com/animanicast
Finally, you can follow us on twitter at twitter.com/animanicast
Different Ways to Support Our Show
If you'd like to support out show there's lots of ways to do it! First of all, you could go onto iTunes and leave us a five-star positive review. Don't forget to tell a friend about the show!
You could also purchase some hand prepared decals from Joey HERE
Are you interested in getting some Animanicast MERCHANDISE? It's in stock now at TeePublic! Get yours HERE.
---

click banner for all episodes and homepage
The Animanicast is a podcast dedicated to the classic animated television series Animaniacs. Join your hosts Joey, Nathan and Kelly as they revisit each episode in the order in which they were released. They'll discuss their favorite moments, jokes, characters as well as their memories of first watching the episode. Pop cultural references are also discussed in detail. (You might just learn some cool facts!) In the end, each episode receives a "Water Tower Rating" from the hosts. Cue up an episode of Animaniacs on Netflix or on DVD and then listen to the Animanicast to keep the fun going!
Cover art by @jedishua Intro Music performed by Kontra5t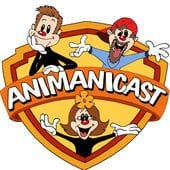 The Animanicast is a podcast dedicated to the classic animated television series Animaniacs. Join your hosts Joey, Nathan and Kelly as they revisit each episode in the order in which they were released. They'll discuss their favorite moments, jokes, characters as well as their memories of first watching the episode. Pop cultural references are also discussed in detail. (You might just learn some cool facts!) In the end, each episode receives a "Water Tower Rating" from the hosts. Cue up an episode of Animaniacs on DVD or Hulu and then listen to the Animanicast to keep the fun going! Cover art by @jedishua Intro Music performed by Kontra5t