It's time again for the Animanicast! Here's episode thirty-eight with a discussion of "Spellbound."
Join Joey, Nathan and Kelly for the thirty-seventh episode of the "Animanicast!" A podcast dedicated to the classic 90s cartoon show Animaniacs! Today's episode features a discussion of episode 38, "Spellbound," Pinky and the Brain are in medievall England seeking an ingredient to a potion that will allow them to take over the world!
---
---
---
Animaniacs S01E38 "Spellbound"
Each and every week, your hosts revisit an episode of the series in the order in which they first premiered. They discuss their favorite jokes, gags, and discuss all the cultural references they can find! Each episode is then given a "Water Tower Rating" by the hosts. How many water towers will this episode get? This thirty-eighth episode features Pinky and the Brain on an adventure in medieval England in "Spellbound." This episode would prove that Pinky and the Brain could star in their own spin-off series just a couple of years later!
Spellbound
Pinky and the Brain are mice inside Merlin's tower. While Merlin is away, Brain finds a spell to take over the world. Unfortunately they're missing one last ingredient, a toe nail of a red dragon. The two then go off to the dragon's cave barely escaping a troll and coming across cameo appearances of other Animaniacs characters. The two mice finally run back to the castle with the dragon close behind. Unfortunately for Brain, Pinky's inability to finish the lyrics of songs finally gets too annoying for Brain to ignore. The ending is pretty cheesy.
There are many celebrities mentioned in the magical spells in this episode. The hosts cover each one and explain who some of the more obscure ones are.
The mention of Ben Vereen reminds Kelly and Joey about a television show, "Zoobilee Zoo" which starred Ben Vereen and others dressed up as animals. In retrospect, some of the animals look a little creepy.
The hosts also discuss some of their favorite gags and moments of this first Pinky and the Brain solo episode!
Twitter Poll
Last week's twitter poll results are shared and this week's question is shared. Go to our twitter page or simply search on twitter for #animanicastpoll to find this week's poll and make your voice heard!
Future Audio Production! Help Wanted!
Joey would love to put together an audio production of the Animaniacs children's books "Hounded" and "Meltdown at the Wax Museum." If you think you can do a good impression of Yakko, Wakko, or Dot send us an email!
Different ways to contact us!
First, you could email us at [email protected]
Then, you could like our facebook page at facebook.com/animanicast
Finally, you can follow us on twitter at twitter.com/animanicast
Different Ways to Support Our Show
If you'd like to support out show there's lots of ways to do it! First of all, you could go onto iTunes and leave us a five-star positive review. Don't forget to tell a friend about the show!
You could also purchase some hand prepared decals from Joey HERE
Are you interested in getting some Animanicast MERCHANDISE? It's in stock now at TeePublic! Get yours HERE.
---

click banner for all episodes and homepage
The Animanicast is a podcast dedicated to the classic animated television series Animaniacs. Join your hosts Joey, Nathan and Kelly as they revisit each episode in the order in which they were released. They'll discuss their favorite moments, jokes, characters as well as their memories of first watching the episode. Pop cultural references are also discussed in detail. (You might just learn some cool facts!) In the end, each episode receives a "Water Tower Rating" from the hosts. Cue up an episode of Animaniacs on Netflix or on DVD and then listen to the Animanicast to keep the fun going!
Cover art by @jedishua Intro Music performed by Kontra5t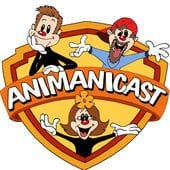 The Animanicast is a podcast dedicated to the classic animated television series Animaniacs. Join your hosts Joey, Nathan and Kelly as they revisit each episode in the order in which they were released. They'll discuss their favorite moments, jokes, characters as well as their memories of first watching the episode. Pop cultural references are also discussed in detail. (You might just learn some cool facts!) In the end, each episode receives a "Water Tower Rating" from the hosts. Cue up an episode of Animaniacs on DVD or Hulu and then listen to the Animanicast to keep the fun going! Cover art by @jedishua Intro Music performed by Kontra5t