It's time again for the Animanicast! Here's episode thirty-six with "Critical Condition" and "The Three Muska-Warners"
Join Joey, Nathan and Kelly for the thirty-sixth episode of the "Animanicast!" A podcast dedicated to the classic 90s cartoon show Animaniacs! Today's episode features a discussion of episode 36, Slappy takes revenge on two movie critics and the "Three Muska-Warners" protect a king from THE VIPER!
---
---
---
Animaniacs S01E36  "Critical Condition" and "The Three Muska-Warners"
Each and every week, your hosts revisit an episode of the series in the order in which they first premiered. They discuss their favorite jokes, gags, and discuss all the cultural references they can find! Each episode is then given a "Water Tower Rating" by the hosts. How many water towers will this episode get? This thirty-sixth episode shows why you should never insult Slappy the Squirrel's comic abilties and what happens when you hire the Warners as your bodyguards.
Critical Condition
Slappy and Skippy get revenge on two movie critics after they pan her performances through the use of numerous explosives, false doors, a dinosaur, and even a liposuction pump. The two Siskel and Ebert caricatures eventually see the error of their ways… and get blown up one last time.
The hosts discuss their memories of Siskel and Ebert, laser discs, and their favorite moments of this cartoon. One moment in particular stands out as one of the most disgusting moments ever in the show. Spew!
Joey points out the similarities in design between the dinosaur in this cartoon and Dudley the Dinosaur from PSA's in the 90's. It turns out that Star Toons was responsible for Dudley and this particular Slappy cartoon. It all makes sense now!
The Three Muska-Warners
The Warners star in this salute to The Three Musketeers! Protecting the king from "The Viper" who must be really scary, right?
Joey, Nathan, and Kelly discuss this cartoon's connections to the Marx Brothers, the Mickey Mouse Club, andThe Honeymooners. There's lots of energy and quick gags in this Warner siblings short!
Twitter Poll
Last week's twitter poll results are shared and this week's question is shared. Go to our twitter page or simply search on twitter for #animanicastpoll to find this week's poll and make your voice heard!
Different ways to contact us!
First, you could email us at [email protected]
Then, you could like our facebook page at facebook.com/animanicast
Finally, you can follow us on twitter at twitter.com/animanicast
Different Ways to Support Our Show
If you'd like to support out show there's lots of ways to do it! First of all, you could go onto iTunes and leave us a five-star positive review. Don't forget to tell a friend about the show!
You could also purchase some hand prepared decals from Joey HERE
Are you interested in getting some Animanicast MERCHANDISE? It's in stock now at TeePublic! Get yours HERE.
---

click banner for all episodes and homepage
The Animanicast is a podcast dedicated to the classic animated television series Animaniacs. Join your hosts Joey, Nathan and Kelly as they revisit each episode in the order in which they were released. They'll discuss their favorite moments, jokes, characters as well as their memories of first watching the episode. Pop cultural references are also discussed in detail. (You might just learn some cool facts!) In the end, each episode receives a "Water Tower Rating" from the hosts. Cue up an episode of Animaniacs on Netflix or on DVD and then listen to the Animanicast to keep the fun going!
Cover art by @jedishua Intro Music performed by Kontra5t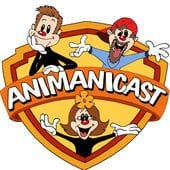 The Animanicast is a podcast dedicated to the classic animated television series Animaniacs. Join your hosts Joey, Nathan and Kelly as they revisit each episode in the order in which they were released. They'll discuss their favorite moments, jokes, characters as well as their memories of first watching the episode. Pop cultural references are also discussed in detail. (You might just learn some cool facts!) In the end, each episode receives a "Water Tower Rating" from the hosts. Cue up an episode of Animaniacs on DVD or Hulu and then listen to the Animanicast to keep the fun going! Cover art by @jedishua Intro Music performed by Kontra5t