It's time again for the Animanicast! Here's episode thirty-five with "In the Garden of Mindy," "No Place Like Homeless," and much more!
Join Joey, Nathan and Kelly for the thirty-fifth episode of the "Animanicast!" A podcast dedicated to the classic 90s cartoon show Animaniacs! Today features a discussion of episode 35, a special Animaniacs cross-over episode, with "In the Garden of Mindy," "No Place Like Homeless," and much more.
---
---
---
Animaniacs S01E35  "In the Garden of Mindy," "No Place Like Homeless" and much, much more!
Each and every week, your hosts revisit an episode of the series in the order in which they first premiered. They discuss their favorite jokes, gags, and discuss all the cultural references they can find! Each episode is then given a "Water Tower Rating" by the hosts. How many water towers will this episode get? This thirty-fifth episode shows what happens when the Warners take the show and mix things up completely! It's a special cross-over episode with many of the characters playing different roles.
In the Garden of Mindy
It's Mindy and the Brain. Yes, Mindy and the Brain. Our first unorthodox pairing puts a toddler and a maniacal mouse together. Brain is trying to take over the world with a stink bomb and needs Mindy to help him before her mom comes home!
The hosts discuss their favorite moments of this cartoon and discuss how this cartoon was, in a sense, a preview of what was to come with "Pinky, Elmyra and the Brain."
No Place Like Homeless
The next major combination features Pesto and Runt together seeking shelter from the rain. An old lady takes Runt inside but repeatedly beats up on Pesto since he might suck Runt's blood.
The hosts discuss what they liked about this pairing and the weird old woman, Mrs. Mumphead.
Katie Ka Boo!
It's the first Katie Ka Boom cartoon. Katie is dating someone from school named C.B.. Her parents try to warn her that he's a giant chicken, but that just makes her very angry!
Kelly shares her thougts on Katie and why she never really liked the character. Joey and Nathan share why they consider Katie to be more of a super hero and why she deserves her own spin off.
Baghdad Cafe
Sodarn Hinsane (a caricature of Saddam Hussein)  is talking about taking over places with his tanks when he is interrupted by Yakko, Wakko, and their sister… Slappy! Slappy tries to fill the role of Dot, but she just doesn't get the Warners' sense of humor. She calls it a night by simply throwing dynamite down Sodarn's pants and going home.
The hosts discuss some of the funniest moments. Slappy actually ends up being funnier than both Yakko and Wakko!
Twitter Poll
Last week's twitter poll results are shared and this week's question is shared. Go to our twitter page or simply search on twitter for #animanicastpoll to find this week's poll and make your voice heard!
Different ways to contact us!
First, you could email us at [email protected]
Then, you could like our facebook page at facebook.com/animanicast
Finally, you can follow us on twitter at twitter.com/animanicast
Different Ways to Support Our Show
If you'd like to support out show there's lots of ways to do it! First of all, you could go onto iTunes and leave us a five-star positive review. Don't forget to tell a friend about the show!
You could also purchase some hand prepared decals from Joey HERE
Are you interested in getting some Animanicast MERCHANDISE? It's in stock now at TeePublic! Get yours HERE.
---

click banner for all episodes and homepage
The Animanicast is a podcast dedicated to the classic animated television series Animaniacs. Join your hosts Joey, Nathan and Kelly as they revisit each episode in the order in which they were released. They'll discuss their favorite moments, jokes, characters as well as their memories of first watching the episode. Pop cultural references are also discussed in detail. (You might just learn some cool facts!) In the end, each episode receives a "Water Tower Rating" from the hosts. Cue up an episode of Animaniacs on Netflix or on DVD and then listen to the Animanicast to keep the fun going!
Cover art by @jedishua Intro Music performed by Kontra5t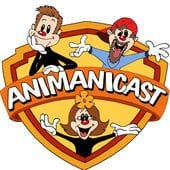 The Animanicast is a podcast dedicated to the classic animated television series Animaniacs. Join your hosts Joey, Nathan and Kelly as they revisit each episode in the order in which they were released. They'll discuss their favorite moments, jokes, characters as well as their memories of first watching the episode. Pop cultural references are also discussed in detail. (You might just learn some cool facts!) In the end, each episode receives a "Water Tower Rating" from the hosts. Cue up an episode of Animaniacs on DVD or Hulu and then listen to the Animanicast to keep the fun going! Cover art by @jedishua Intro Music performed by Kontra5t