It's time again for the Animanicast! Here's episode thirty-four with "Clown and Out," and "Bubba Bo Bob Brain."
Join Joey, Nathan and Kelly for the thirty-fourth episode of the "Animanicast!" A podcast dedicated to the classic 90s cartoon show Animaniacs! Today features a discussion of episode 34 with "Clown and Out" and "Bubba Bo Bob Brain"
---
---
---
Animaniacs S01E34  "Clown and Out" and "Bubba Bo Bob Brain"
Each and every week, your hosts revisit an episode of the series in the order in which they first premiered. They discuss their favorite jokes, gags, and discuss all the cultural references they can find! Each episode is then given a "Water Tower Rating" by the hosts. How many water towers will this episode get? This thirty-fourth episode features Wakko defending himself from a clown on his birthday and the Brain almost takes over the world as a country singer!
Clown and Out
It's Wakko's birthday, so Mr. Plotz hires Mr. Clown to entertain him. What he doesn't realize is that Wakko suffers from "clownophobia" and will attack any clown he sees. Mr. Clown, (who looks a lot like Mr. Director in makeup) tries to entertain Wakko and assure him that he's just a nice clown but Wakko won't hear it. Mr. Clown is hit over the head, shot by a canon, and eventually launched into space where he gets to entertain little martian children.
The hosts discuss their favorite moments of this cartoon and discuss whether or not Mr. Clown and Mr. Director are the same person. Writer Paul Rugg doesn't help clear things up when Joey reaches out to him.
Kelly makes a cool connection between this cartoon and "Hello Nice Warners," it's all connected to the funny pronunciation of "animal."
Bubba Bo Bob Brain
Pinky and the Brain are back once again! Brain realizes that country music is so popular that he could use a subliminal message to take over the minds of anyone that listens to his song. The two mice go off to Nashville and quickly become the biggest country stars in the world thanks to Brain's subliminal message. Pinky ends up upsetting Brain at the last minute however and Brain tells Pinky (and everyone else under his spell) to forget his name. The two them return to Acme Labs to try and take over the world again tomorrow night.
This cartoon is pure comedy gold!  The hosts review the different cultural references pertaining to country music and compare the songs played in the cartoon to their original source material.
Favorite moments are discussed and much like "Clown and Out," there's a lot of them! Almost every line of this cartoon is a classic and remains funny even after multiple viewings.
Twitter Poll
Last week's twitter poll results are shared and this week's question is shared. Go to our twitter page or simply search on twitter for #animanicastpoll to find this week's poll and make your voice heard!
Different ways to contact us!
First, you could email us at [email protected]
Then, you could like our facebook page at facebook.com/animanicast
Finally, you can follow us on twitter at twitter.com/animanicast
DIfferent Ways to Support Our Show
If you'd like to support out show there's lots of ways to do it! First of all, you could go onto iTunes and leave us a five-star positive review. Don't forget to tell a friend about the show!
You could also purchase some hand prepared decals from Joey HERE
Are you interested in getting some Animanicast MERCHANDISE? It's in stock now at TeePublic! Get yours HERE.
---

click banner for all episodes and homepage
The Animanicast is a podcast dedicated to the classic animated television series Animaniacs. Join your hosts Joey, Nathan and Kelly as they revisit each episode in the order in which they were released. They'll discuss their favorite moments, jokes, characters as well as their memories of first watching the episode. Pop cultural references are also discussed in detail. (You might just learn some cool facts!) In the end, each episode receives a "Water Tower Rating" from the hosts. Cue up an episode of Animaniacs on Netflix or on DVD and then listen to the Animanicast to keep the fun going!
Cover art by @jedishua Intro Music performed by Kontra5t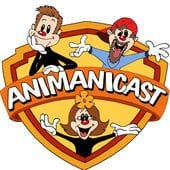 The Animanicast is a podcast dedicated to the classic animated television series Animaniacs. Join your hosts Joey, Nathan and Kelly as they revisit each episode in the order in which they were released. They'll discuss their favorite moments, jokes, characters as well as their memories of first watching the episode. Pop cultural references are also discussed in detail. (You might just learn some cool facts!) In the end, each episode receives a "Water Tower Rating" from the hosts. Cue up an episode of Animaniacs on DVD or Hulu and then listen to the Animanicast to keep the fun going! Cover art by @jedishua Intro Music performed by Kontra5t