It's time once again for the Animanicast! Here's episode thirty-three discussing "Noah's Lark" and much more!
Join Joey, Nathan, and Kelly for the thirty-third episode of the "Animanicast!" A podcast dedicated to the classic 90's cartoon show Animaniacs! Today episode 33 of Animaniacs is discussed with segments: "Noah's Lark," "The Big Kiss," and "Hiccup."
---
---
        
Animaniacs S01E33 Noah's Lark/The Big Kiss/Hiccup
Each and every week, your hosts revisit an episode of Animaniacs in the order in which they first premiered. They discuss their favorite jokes, gags, and all the cultural references they can find! In the end, each episode is given a "Water Tower Rating." How many water towers will this episode get? This episode features the Hip Hippos on Noah's Lark, Chicken Boo trying to become a star, and Squit with a bad case of the hiccups!
"Cartoons in Wakko's Body"
Before getting into the main segments, Joey summarizes all of the book end segments this episode has involving the Warners. Wakko has cartoons in his body!
"Noah's Lark"
Noah is putting animals two by two onto his ark. Unfortunately the Hip Hippos come aboard and believe that they're on a cruise. It's forty days and forty nights on the high seas with hippos and spiders!
Indiana Jones makes a quick cameo in this episode and Kelly loves it!
In this cartoon Noah is a caricature of comedian Richard Lewis. Some of his work is shared and discussed.
"The Big Kiss"
Chicken Boo is the sexiest actor on earth until he kisses an actress and his mustache comes off!
The hosts discuss their favorite moments and how stupid the humans are in these cartoons!
"Hiccup"
Squit has the hiccups so the other Good Feathers try to help him out.
The hosts discuss some of their favorite references and discuss why Pesto is probably a closeted Disney fan.
Water Tower Rating and Poll Results
Finally, Joey, Nathan and Kelly share their water tower rating of today's episode and discuss the poll results from last week's twitter poll!
Contact Us!
First, you can send an email to [email protected]
Then you can follow us on twitter.com/animanicast
Finally, you can like us on Facebook.com/animanicast
Different ways to support the show!
If you'd like to support our show, first make sure to subscribe with your favorite podcast catcher. Don't forget to also leave a five-star positive review for us on iTunes, it really helps! Finally, make sure you tell a friend about the show!
If you would like to help fund the show and get some really cool hand prepared decals in the process, click HERE!
Are you interested in getting your own ANIMANICAST MERCHANDISE? It's in stock now at TeePublic! Get yours HERE.
Cover art by @jedishua | Intro Music performed by Kontra5t
---
click banner for all episodes and homepage
The Animanicast is a podcast dedicated to the classic animated television series Animaniacs. Join your hosts Joey, Nathan and Kelly as they revisit each episode in the order in which they were released. They'll discuss their favorite moments, jokes, characters as well as their memories of first watching the episode. Pop cultural references are also discussed in detail. (You might just learn some cool facts!) In the end, each episode receives a "Water Tower Rating" from the hosts. Cue up an episode of Animaniacs on Netflix or on DVD and then listen to the Animanicast to keep the fun going!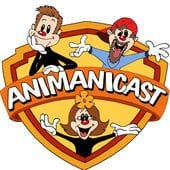 The Animanicast is a podcast dedicated to the classic animated television series Animaniacs. Join your hosts Joey, Nathan and Kelly as they revisit each episode in the order in which they were released. They'll discuss their favorite moments, jokes, characters as well as their memories of first watching the episode. Pop cultural references are also discussed in detail. (You might just learn some cool facts!) In the end, each episode receives a "Water Tower Rating" from the hosts. Cue up an episode of Animaniacs on DVD or Hulu and then listen to the Animanicast to keep the fun going! Cover art by @jedishua Intro Music performed by Kontra5t