It's time once again for the Animanicast! Here's episode thirty with a discussion of "Hot, Bothered and Bedeviled" and more!
Join Joey, Nathan, and Kelly for the thirtieth episode of the "Animanicast!" A podcast dedicated to the classic 90's cartoon show Animaniacs! Today episode 30 of Animaniacs is discussed with segments: "Hot, Bothered and Bedeviled," "Moon Over Minerva," and "Skullhead Boneyhands"
---
[iframe url="http://html5-player.libsyn.com/embed/episode/id/4971829/height/90/width/920/theme/custom/autoplay/no/autonext/yes/thumbnail/yes/preload/no/no_addthis/no/direction/backward/no-cache/true/render-playlist/no/custom-color/555555 /" width="920″ height="90″]
---
        
---
Animaniacs S01E30 Hot, Bothered and Bedeviled/Moon Over Minerva/Skullhead Boneyhands
Each and every week, your hosts revisit an episode of Animaniacs in the order in which they first premiered. They discuss their favorite jokes, gags, and all the cultural references they can find! In the end, each episode is given a "Water Tower Rating." How many water towers will this episode get? This episode features the Warners facing off against Satan, Minerva Mink's first cartoon, and a parody of Edward Scissorhands.
"Hot, Bothered and Bedeviled"
In the first cartoon, the Warners are trying to get to "Six Flags over Flushing" but end up in Hades where they meet Satan. Satan tries in vain to torment the Warners but it all backfires and Hell freezes over!
Joey, Nathan and Kelly discuss some of their favorite moments and cultural references.
Tom Ruegger and John P. McCann also responded on twitter to some of controversies over this episode.
Commercial Break: Animaniacs Funko Figures
Joey and Nathan review the new Funko Animaniacs figures. Are they worth buying?
"Moon Over Minerva"
Minerva Mink stars in her first cartoon where a nerdy wolf tries to win her affections. She doesn't like him but loves his alter ego which appears whenever he sees a full moon.
Your hosts discuss the episode and whether or not it's appropriate for young audiences. Feel free to send us your thoughts by sending us an email and/or audio message.
"Skullhead Boneyhands"
Mr. Skullhead returns in his first (and only) cartoon segment paroding the movie "Edward Scissorhands"
The hosts discuss some of their favorite moments and references to not only Edward Scissorhands and even Bugs Bunny!
Kathryn Page Rundown
Nathan uses his amazing sound effects to vocally produce sounds from the Kathryn Page's credits found in episodes 16-30.
Water Tower Rating and Poll Results
Finally it's time for Kelly, Nathan, and Joey share their rating of today's episode. They then give their thoughts on last week's poll.
Contact us
First, you can send an email to animanicast@retrozap.com
Then you can follow us on twitter.com/animanicast
Finally, you can like us on Facebook.com/animanicast
Different ways to support the show!
If you'd like to support our show, first make sure to subscribe with your favorite podcast catcher. Don't forget to also leave a five-star positive review for us on iTunes, it really helps! Finally, make sure you tell a friend about the show!
If you would like to help fund the show and get some really cool hand prepared decals in the process, click HERE!
Are you interested in getting your own ANIMANICAST SHIRT? They're in stock now at TeePublic! Get yours HERE.
Cover art by @jedishua | Intro Music performed by Kontra5t
---
About The Animanicast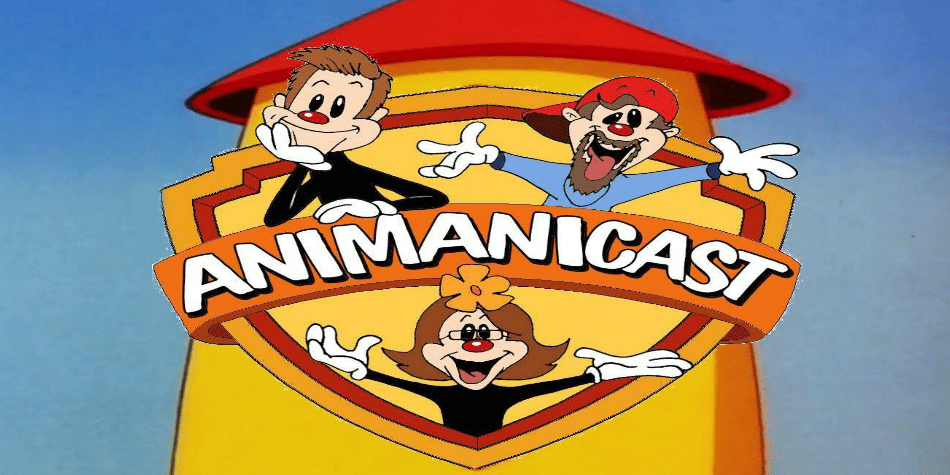 The Animanicast is a podcast dedicated to the classic animated television series Animaniacs. Join your hosts Joey, Nathan and Kelly as they revisit each episode in the order in which they were released. They'll discuss their favorite moments, jokes, characters as well as their memories of first watching the episode. Pop cultural references are also discussed in detail. (You might just learn some cool facts!) In the end, each episode receives a "Water Tower Rating" from the hosts. Cue up an episode of Animaniacs on Netflix or on DVD and then listen to the Animanicast to keep the fun going!