It's time for the Animanicast! This time. we watch more classics: "H.M.S. Yakko" "Slappy Goes Walnuts" & "Yakko's Universe!"
Join Joey, Nathan, and Kelly for the third episode of the "Animanicast!" This time they cover episode 3 featuring H.M.S. Yakko, Slappy Goes Walnuts, and Yakko's Universe.
                        
---
---
Animaniacs S01E03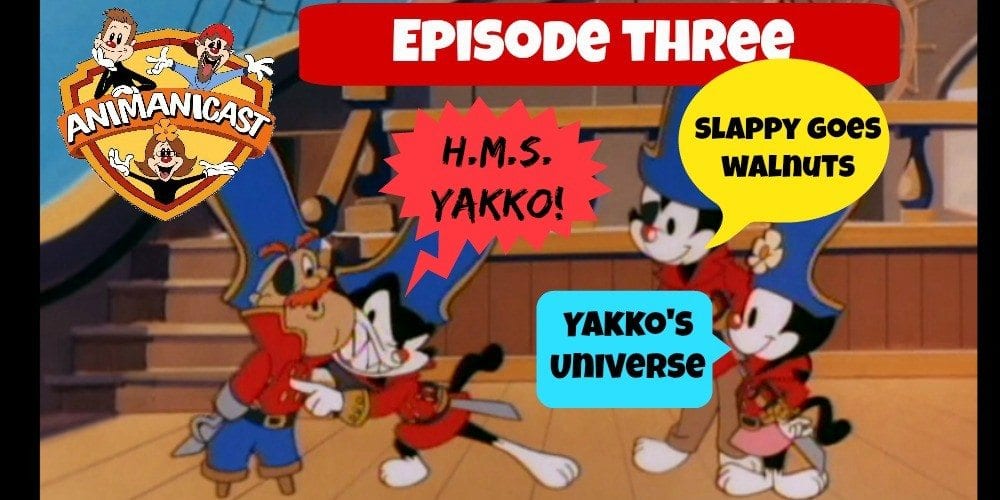 Each and every week, your hosts will revisit an episode of the series in the order in which they first premiered. They discuss their favorite jokes, gags, and discuss all the cultural references they can find! Each episode is then given a "Water Tower Rating" by the hosts. How many water towers will this episode get? Segments discussed in this third episode include…
"H.M.S. Yakko"
The Warners visit an island to "catch some Zs" but little do they know the island is the private pirate property of Captain Mel! How will the Warners survive? Quite easily! After all, Yakko is the very model of a cartoon individual! This episode has lots of references to both the Gilbert and Sullivan musical "The H.M.S. Pinafore" and "The Pirates of Penzance." Joey is so excited about the similarities that he is able to isolate and play selections from the film "The Pirates of Penzance" starring Kevin Kline. Kelly on the other hand recalls similarities to "The Pirate Movie." Lots of cartoon cameos, hilarity, and great music are all featured heavily in this segment. It's a classic!
If you're interested in purchasing The Pirates of Penzance, click HERE.
"Slappy Goes Walnuts"
Slappy Squirrel is introduced! Her nephew Skippy comes by to visit and is noticeably on a sugar high from junk food. Slappy then decides to make Skippy some brain food with walnuts. Unfortunately there's no more walnuts! Slappy decides to take Skippy out to get walnuts from Doug the Dog and show him in the process that she can take care of mean Doug quite easily! What connections does this cartoon have to "The Little Mermaid" and other Disney productions? What are the origins of Slappy's xylophone gag? Listen to find out!
"Yakko's Universe"
Yakko's Universe is a short but sweet song. Yakko sings about the complexity of the universe and just how small and insignificant we all are. We're all just tiny little specks, about the size of Mickey Rooney! What do the hosts like about this song and what do they like about Mickey Rooney?
---
About The Animanicast

The Animanicast is a podcast dedicated to the classic animated television series Animaniacs. Join your hosts Joey, Nathan and Kelly as they revisit each episode in the order in which they were released. They'll discuss their favorite moments, jokes, characters as well as their memories of first watching the episode. Pop cultural references are also discussed in detail. (You might just learn some cool facts!) In the end, each episode receives a "Water Tower Rating" from the hosts. Cue up an episode of Animaniacs on Netflix or on DVD and then listen to the Animanicast to keep the fun going!

Cover art by @jedishua | Intro Music performed by Kontra5t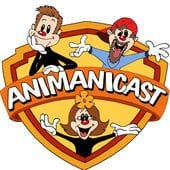 The Animanicast is a podcast dedicated to the classic animated television series Animaniacs. Join your hosts Joey, Nathan and Kelly as they revisit each episode in the order in which they were released. They'll discuss their favorite moments, jokes, characters as well as their memories of first watching the episode. Pop cultural references are also discussed in detail. (You might just learn some cool facts!) In the end, each episode receives a "Water Tower Rating" from the hosts. Cue up an episode of Animaniacs on DVD or Hulu and then listen to the Animanicast to keep the fun going! Cover art by @jedishua Intro Music performed by Kontra5t