It's time once again for the Animanicast! Here's episode twenty-seven with "You Risk Your Life," "I Got Yer Can," "Jockey for Position" and more!
Join Joey, Nathan, and Kelly for the twenty-sixth episode of the "Animanicast!" A podcast dedicated to the classic 90's cartoon show Animaniacs! Today episode 27 of Animaniacs  is discussed with segments: "You Risk Your Life," "I Got Yer Can," and "Jockey for Position"
---
---
        
---
Animaniacs S01E27 "You Risk Your Life," "I Got Yer Can," and "Jockey for Position"
Each and every week, your hosts revisit an episode of Animaniacs in the order in which they first premiered. They discuss their favorite jokes, gags, and all the cultural references they can find! In the end, each episode is given a "Water Tower Rating." How many water towers will this episode get? This 27th episode shows us once again why one should never mess with Slappy the Squirrel and gives us another appearance by Pinky and the Brain!
"You Risk Your Life"
Yakko hosts a parody of the classic game show "You Bet Your Life" which starred Groucho Marx. Aristotle and a woman who looks a lot like Elmyra's mom come out to play the game. Aristotle says the secret word, "Yes," numerous times and gets hit on the head with a mallet by Wakko! What a show!
Joey shares some of his memories of watching the original "You Bet Your Life" and some of the similarities and differences it has with this parody.
"I Got Yer Can"
Slappy tries to throw away a can of Diet Walnut Soda in her neighbor's trash can on her way to get some more buttermilk. Her neighbor, Candie Chipmunk, however makes a fuss and throws the can back at her. Slappy quickly finds ways to drive Candie to the breaking point and take the can back.
Some cultural references and favorite moments from the episode are discussed. Since this episode is based upon a real event in Sherri Stoner's life, the hosts discuss if they've had any similar experiences.
This segment is currently not available on Netflix! Probably because of a copyright issue with the stock footage. Do you know what footage it's from? Let us know!
"Jockey for Position"
Brain has a great idea to raise money for his next scheme to take over the world, enter a horse race! This plan is inadvertently foiled by Pinky and his inter-species romantic love interest. Oh, drat!
Joey, Nathan, and Kelly discuss their favorite moments and some of the references that would probably go over many heads today.
Water Tower Rating and Poll Results
Kelly, Nathan, and Joey share their rating of today's episode. They then give their thoughts about what their thoughts on last week's poll.
Finally, the new poll is shared for this week: "Who is more insane? Pinky or the Brain?" Head over to twitter.com/animanicast or search for #animanicastpoll to vote!
Listener Feedback
 Joey asked last week if listeners could identify a song that played during "Potty Emergency" and they responded! It turns out the song was "Drink to Me Only with Thine Eyes!" The listeners who responded will soon get some free Animaniacs decals! Woo-hoo!
Joey also shares a shout-out that we got on twitter and then Nathan shares a new iTunes review!
One of our listeners, Danielle, even wrote about the Animanicast in an example essay for her Language Arts students! We share an excerpt from the essay. Kelly particularly loves the acknowledgments to Steven Spielberg.
Contact us
First, you can send an email to [email protected]
Then you can follow us on twitter.com/animanicast
Finally, you can like us on Facebook.com/animanicast
Different ways to support the show!
If you'd like to support our show, first make sure to subscribe with your favorite podcast catcher. Don't forget to also leave a five-star positive review for us on iTunes, it really helps! Finally, make sure you tell a friend about the show!
If you would like to help fund the show and get some really cool hand prepared decals in the process, click HERE!
Are you interested in getting your own ANIMANICAST SHIRT? They're in stock now at TeePublic! Get yours HERE.
Cover art by @jedishua | Intro Music performed by Kontra5t
---
About The Animanicast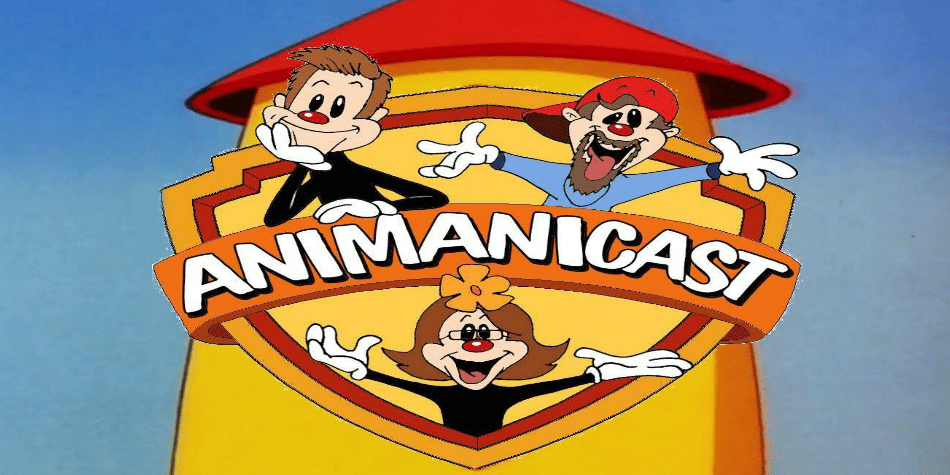 The Animanicast is a podcast dedicated to the classic animated television series Animaniacs. Join your hosts Joey, Nathan and Kelly as they revisit each episode in the order in which they were released. They'll discuss their favorite moments, jokes, characters as well as their memories of first watching the episode. Pop cultural references are also discussed in detail. (You might just learn some cool facts!) In the end, each episode receives a "Water Tower Rating" from the hosts. Cue up an episode of Animaniacs on Netflix or on DVD and then listen to the Animanicast to keep the fun going!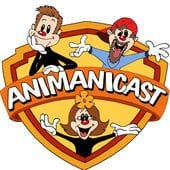 The Animanicast is a podcast dedicated to the classic animated television series Animaniacs. Join your hosts Joey, Nathan and Kelly as they revisit each episode in the order in which they were released. They'll discuss their favorite moments, jokes, characters as well as their memories of first watching the episode. Pop cultural references are also discussed in detail. (You might just learn some cool facts!) In the end, each episode receives a "Water Tower Rating" from the hosts. Cue up an episode of Animaniacs on DVD or Hulu and then listen to the Animanicast to keep the fun going! Cover art by @jedishua Intro Music performed by Kontra5t