Alastair Eales is a UK artist that is taking his love for vintage action figures to the next level.
One night surfing Twitter, I came upon some amazing Star Wars art. This isn't exactly an odd thing; I see amazing pieces on there every day. However, this time, I was absolutely mesmerized. This artist was doing something different, and captured the brilliance, detail, and imagination that classic Star Wars action figured evoked. Alastair Eales had also managed to capture something more as well. There was an aspect of whimsy, nostalgia, and memory in each piece. This is something special, interesting, and even collectible.
I caught up with Alastair to discuss his passion for Star Wars and how he came to this project.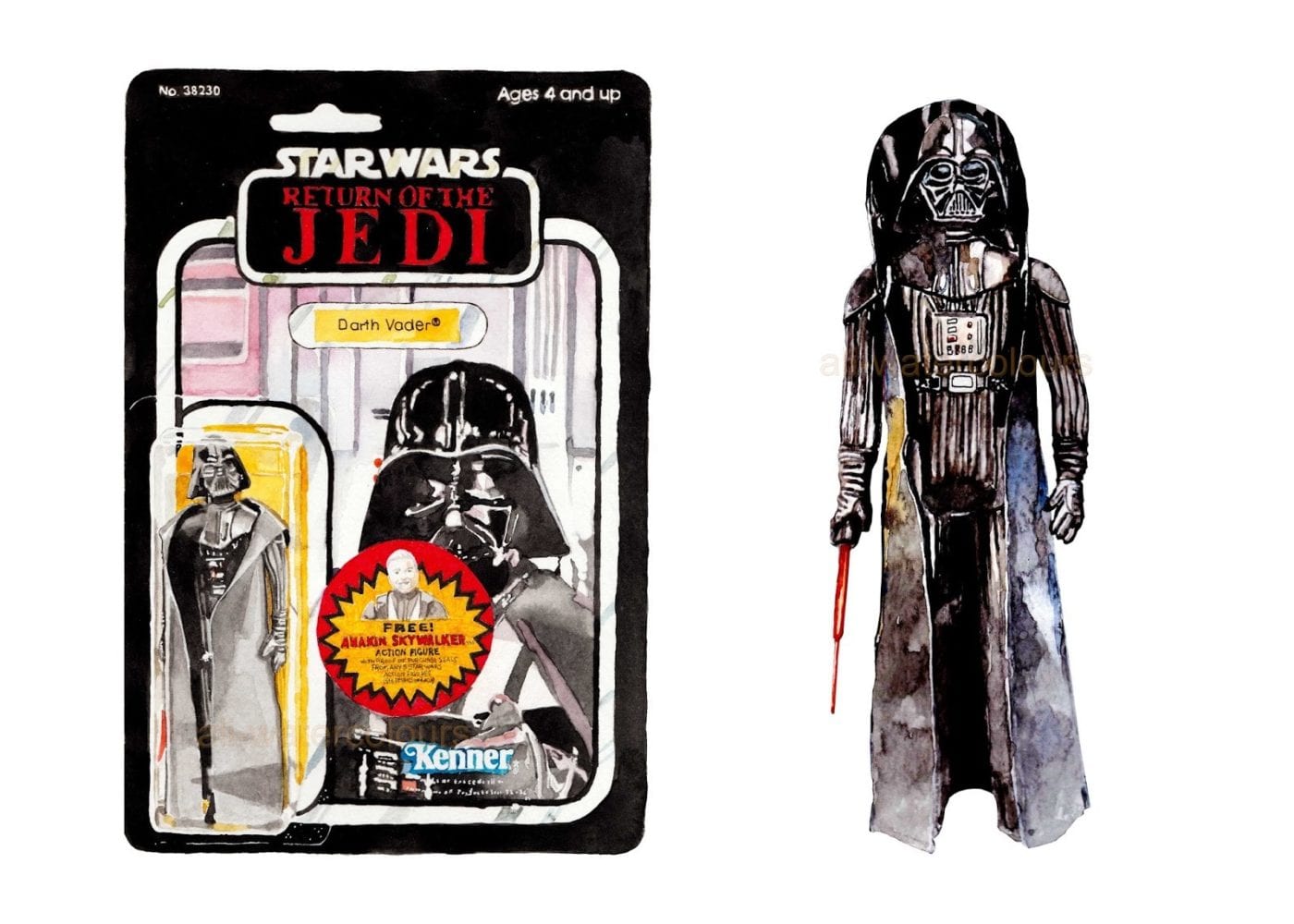 What is your background as a Star Wars fan?
Alastair Eales: The Empire Strikes Back was the first film I ever saw back in 1980. While I was only six at the time, the film made a massive impact on my life. I've been hooked ever since.
How did you discover you wanted to create Star Wars art? Are you formally trained? Do you do this for a living?
Alastair Eales: Back in the day, I used to collect vintage Star Wars toys, but in 2007 I had to sell up to pay for an unexpected tax bill. As you might imagine, I was bereft without my collection–and unable to afford to amass a new collection!
I work freelance as an art educator through Southampton City Art Gallery and as an Outreach teacher for Hampshire Futures teaching visual art and IT. As a trained artist (BA in Fine Art Degree and a Master's Degree in European Fine Art), I hit upon the idea to document in watercolor the entire Kenner Star Wars toy range 1977-1989… thus I could have my very own collection of SW toys (albeit on paper in 2D form).
I have been drawing and painting vintage Star Wars toys since 2013 and I yet I have only scratched the surface of my goal. The journey continues!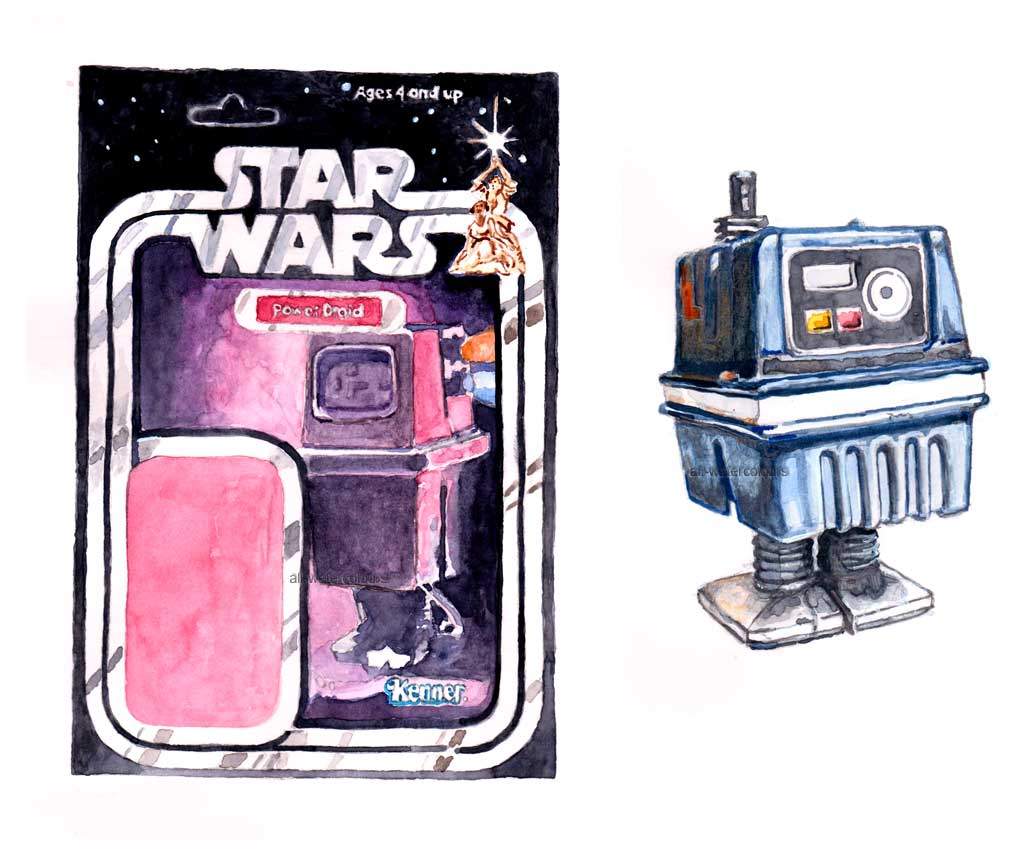 Why do you think these figures resonate after decades?
Alastair Eales: The toys encapsulate a part of my childhood, but it's not only the nostalgia that resonates, it's also that the toys and the packaging were so well designed. The aesthetic quality has lasted the test of time.
Why do these figures work so well as the subject for art? From photos to paintings, what is it about these mediums that seems to bring an action figure to life?
Alastair Eales: When embarking on this project, I discovered that a few cardbacks were hand painted and not photographic artwork. Most notably hand-painted were Boba Fett, Walrus-Man, Anakin Skywalker and some of the Power of Force toy packaging.
So, it made sense to use watercolor as a medium, as it was used back in the day and it holds a retro-like quality.
There is also the unique quality that hand-painted artwork has over mechanically made artwork, something that gets people to stop and look again. The slow methodical process of drawing and painting can bring out qualities that a photographic process may gloss over.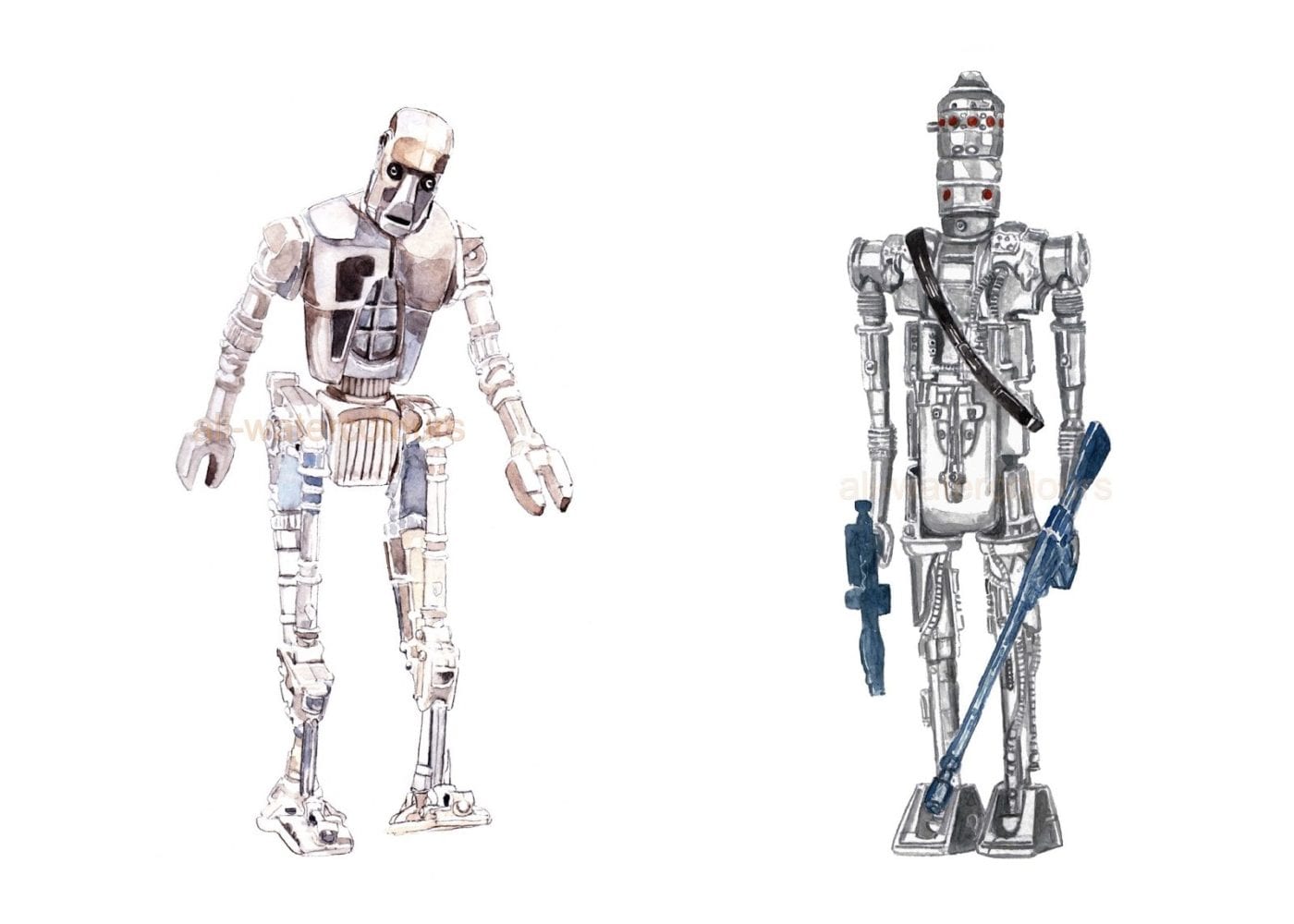 I find paint (and especially watercolor) transformative as a medium, in as much as you can take any subject (mundane or other) and breathe new life into it. By this, I mean you can take, for example, a pebble (which in most instances would be considered a bit boring) and by careful transcription draw out the finer nuances of texture and color, resulting in a picture that resonates a quality/beauty that is often missed by the viewer when looking at the pebble or a photo of the pebble.
I found this true when painting pictures of the vintage Star Wars figures, suddenly my non-Star Wars friends were interested in the toys documented in watercolor, before they just did not get my love of "little lumps of plastic". The transformative quality of watercolor allowed them to see some of the potential which vintage toy collecting fans have always seen.
Who are your inspirations, artistically? What work are you drawn to?
Alastair Eales: Artists I am drawn to…an obvious one to start…Ralph McQuarrie–the Star Wars conceptual artist, whose vision fleshed out Lucas' world. Then there is the work of a vanguard of fantasy illustration the mighty Arthur Rackham with his haunting and dreamlike paintings. There are so many more, but I will just mention one more name, Heinz Edelmann–the graphic designer, educator and illustrator who created the comically psychedelic 1968 animated Beatles film "Yellow Submarine."
Where is your Star Wars fandom today?
Alastair Eales: Original Trilogy and the new Star Wars VII – but, I am partial to all aspects of Star Wars.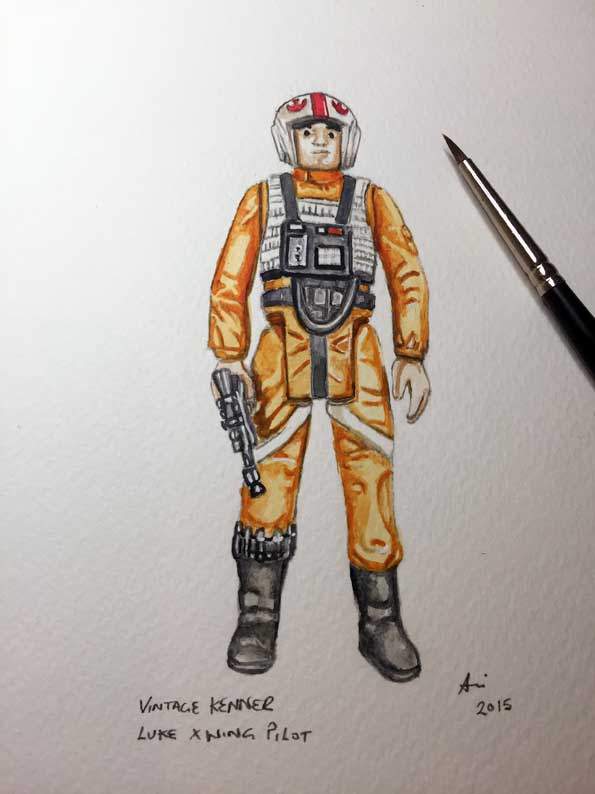 If you could give anyone one piece of your Star Wars action figure artwork, who would it be, which painting would it be, and why?
Alastair Eales: During my usual trawl of the web and social platforms scouring for Star Wars related tidbits, I found a series of photo stills of Mark Hamill dressed in his Bespin outfit from The Empire Strikes Back. It occurred to me (maybe fancifully), that those photos may have been used by the original artists who sculptured the Kenner Bespin Luke prototype… anyway I decided to use the photos to paint a portrait of Hamill in his Luke Bespin dress.
I am not usually the sort of person to give out my work unsolicited, in case the receiver really did not like or want my offering. But, on the off chance that I met Mark Hamill and if he was so inclined I'd happily give him the Bespin Luke portrait.
 What's on the horizon for future projects?
Alastair Eales: A quick joke for you (I found on the Internet)… Luke and Obi-Wan walk into a Chinese restaurant. Ten minutes into the meal, Luke's really struggling with his chopsticks, dropping food everywhere. Obi-Wan finally snaps "Use the fork, Luke, USE THE FORK!"
…OK, I will stick with painting and leave comedy to other people.
I feel like I have only scratched the surface of this project and I hope to continue to try to document in watercolor the vintage Star Wars range. Saying that, I'd like to branch out and paint a wider range of toys and their packaging, but it is just finding the time to do so!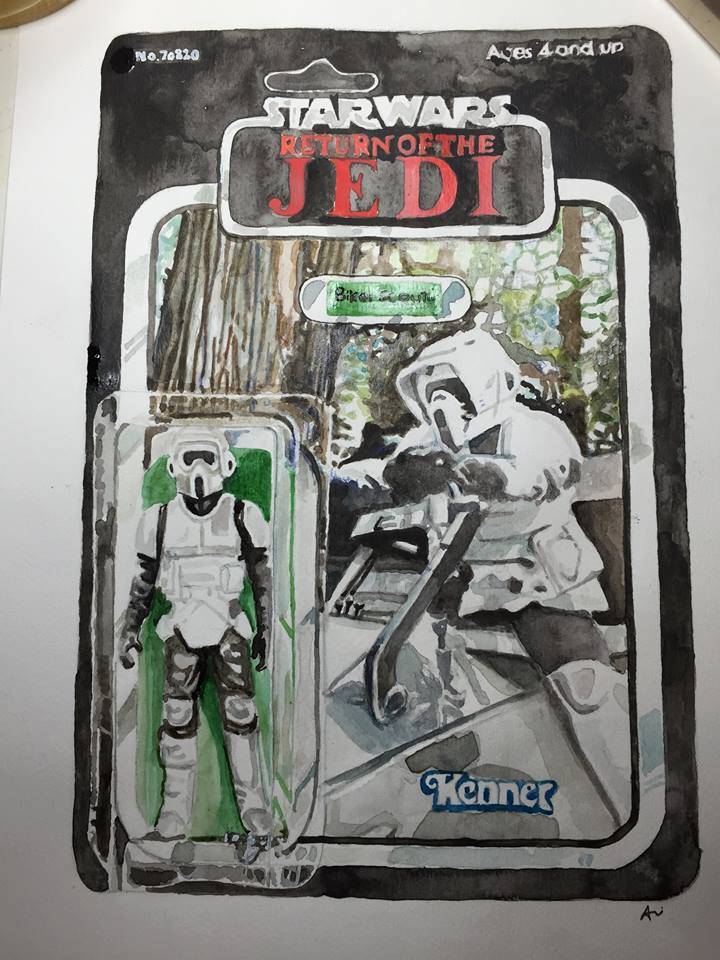 Where can people buy your work? Where can people contact you?
Alastair Eales: My rather chaotic blog is: http://ali-watercolours.blogspot.co.uk/. I am always up for collaborations and commission work; easiest way to contact me is via my email: [email protected]. I sell limited-edition signed prints of my work on eBay; the work comes with a certificate of authenticity. Very occasionally I will release an original painting for sale on eBay.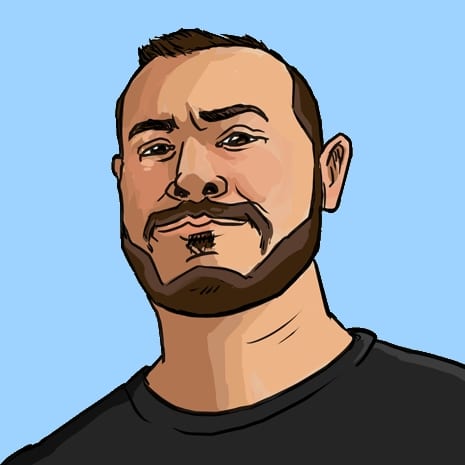 Joseph Tavano is the owner and editor in chief of RetroZap. Born just months before Luke found out who his father was, he has been fortunate to have had Star Wars in his life as long as he can remember. Growing up just outside of Boston, Massachusetts, he can remember substituting sticks for lightsabers and BMX bikes for speeders. He loves comics, retro games, vintage sci-fi paperbacks, and maps. Though an accomplished drummer, he doesn't crave adventure (as much) any more, and prefers his old haunts in Salem, Massachusetts, where he resides with his family. Buy him a glass of whiskey and he'll return it in kind.