A Totally Total Recall of Summer Toys and Ah-nuld!
Total Recall, Arnold Schwarzenegger in video games, and fun summer toys.
Jovial Jay and JediShua are ready for the summer. No matter what it looks like this year.
In the NEWS
Scott Derrickson will be directing a 'Labyrinth' sequel!
We Love Our Cereal…
Are you ready for marshmallows in your Frosted Flakes? Of course you are! Marshmallows make every cereal better! How about a Caramel Apple….Jack? How has it taken them so long to think of this one? And we have some very sad news about Shua's beloved breakfast spot, The Cereal Box, Inc.
Let's All Go to the Movies – Total Recall
In 1990, Arnold Schwarzenegger was on top of his game! So he tackled a sci-fi cinematic experience known as Total Recall. Arnold plays Doug Quaid, a construction worker that keeps dreaming of Mars. So he goes to the memory implantation clinic known as Rekall. But he may possibly be a real life spy. This leads him to Mars and a secret that keeps you guessing.
TechnoRetro Arcade: Arnold Video Games
With all the action movies Schwarzenegger has made, you gotta figure he'd appear in some video games too. And he has! We take a look at some of the memorable ones and what the man himself thinks of them.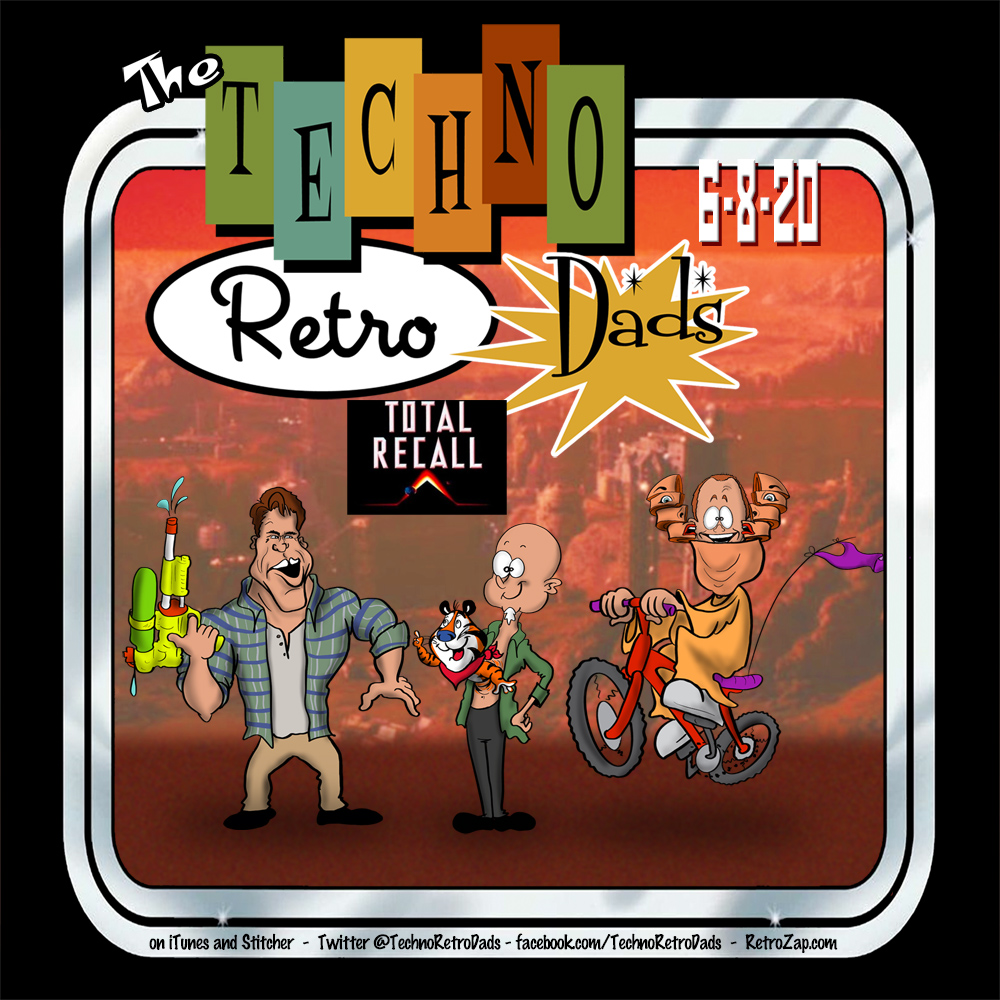 Thanks for continuing to tune in to TechnoRetro Dads, EarBuds!  Go online for more TechnoRetro Dads on iTunes, Apple Podcasts, Stitcher, RetroZap.com, or TechnoRetroDads.libsyn.com.  Pick up your TechnoRetro Dads merchandise at TeePublic.  Don't forget to rate and review TechnoRetro Dads on iTunes, share us and with us on social media, get TechnoRetro merchandise at TeePublic, and join discussions on Discord about toys, cereal, games, movies and/or shows from the '70s and '80s by giving the 'Dads your feedback via voice mail at (209) 878-7323 or sending us your mp3dback via electronic-M to podcast@TechnoRetroDads.com.
Share and enjoy!
---
click banner for all episodes and homepage!
Join shazbazzar and JediShua each week for a look back at the '70s and '80s as they share the fun and also fandom of their youth with their families, friends, and EarBuds. Topics include TV, film, music, toys, and games of the '70s and '80s like Atari, Nintendo, Sega, and arcade games as well as franchises which have continued into the 21st Century, especially Star Wars, Lost in Space, Tron, and Amazing Stories. The TechnoRetro Dads create new stories as old legends are passed down from one generation to the next.
If you're a TechnoRetro Dad, the child of one, or just appreciate the '70s and '80s, then this podcast is definitely for you!